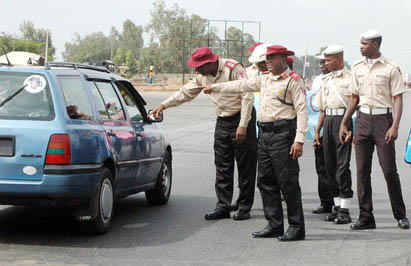 File: FRSC officials
The Federal Road Safety Corps (FRSC) has said that the perennial gridlocks in Apapa area which had spread to other parts of Lagos would soon be a thing of the past.
Mr Olalekan Morakinyo, FRSC Head of Operation in Lagos, told newsmen on Saturday that traffic lock down was as a result of influx of tankers to Apapa ports.
Morakinyo said that the situation was compounded by the ongoing rehabilitation of roads in Apapa area, adding that the gridlocks would soon be over when the roads were completed.
According to him, many tankers came to Apapa loading bay without schedule, thus causing the gridlock.
"It begins from lkorodu road and the Western Avenue axis to Ijora.
"As soon as the road is completed all the corridors within the axis will experience free flow of traffic," he said.
He urged motorists to be patient and obey traffic officials to ease traffic within the short period of the road rehabilitation.
Mr Semiu Oladele, a tanker driver, told journalists that the bad roads within Apapa area posed great challenges to their operations, resulting in the logjam.
Newsmen recall that stakeholders, comprising traffic authorities, transport unions and port users, on Friday gave the trucks and tankers parking indiscriminately 48 hours to vacate Lagos roads.
Similarly, the Lagos State Government also on Friday asked trailers to keep away from Lagos roads until the resolution of the traffic logjam.
NAN