By Emma Amaize
ASABA – SENATOR Ovie Omo-Agege representing Delta Central senatorial district in Delta State, Tuesday, declared that his constituents did not send him to the National Assembly in Abuja for the break-up or dissolution of the country.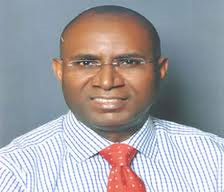 The Senator, in a statement, denouncing the move for break up, stated that dissolution of the country was not part of the restructuring contemplated and being demanded by eminent Nigerians and citizens.
His words: "My goal is, therefore, to collaborate with my colleagues to make Nigeria better but certainly not to destroy it. My people did not ask me to come to Abuja for the dissolution of this great country."
He asserted: "The break-up of Nigeria cannot be a legitimate outcome of restructuring. While issues such as devolution of power, fiscal federalism, and resource control, are all legitimate aspects of restructuring, it is not tenable to purport that the actual break-up or dissolution of the country is a necessary, responsible or bonafide expectation of our citizens within the broad agenda to restructure this country to practice federation in its pure form."
"The essence of restructuring is to make Nigeria a better place for all; not to destroy it. I would therefore enjoin our people to see any step taken by the National Assembly to restructure the country as a case of the glass being half full, rather than half empty. Are they sufficient? No, obviously. Is it better to start somewhere than arguing with ourselves on one spot? The answer is a definite 'Yes'
"To talk of break-up within the context of restructuring is an irreconcilable contradiction. Restructuring presupposes that a building exists and will continue to exist in far better shape after restructuring. To talk of break-up is to envisage the bulldozing of the building. By nature, I am not a destructive person at all," he said.
Senator Omo-Ageged added: "There will always be disappointed when expectations are not satisfied. That is the case with defeat of the power devolution bill – a bill essentially seeking to give additional constitutional responsibilities to the states by moving some items from the exclusive legislative list to the concurrent legislative list."
"I believe it is the right thing to do. Unfortunately, we did not secure the required votes to get it through. My hope is that someday, we will get it right when the required numbers of legislators understand the need to develop this nation organically and speedily by giving the states more roles to play. But hope is not lost.
"Going forward, critical items on devolution of power can still be individually revisited as already commendably indicated by the leadership of the National Assembly. To this end, neither the Senate nor the House can truly be said to have rejected restructuring per se," he opined.
He explained: "What was rejected was a package containing many different items. The items most crucial to achieving true federalism within the framework of a united country, can and will be revisited and carried through in the future."