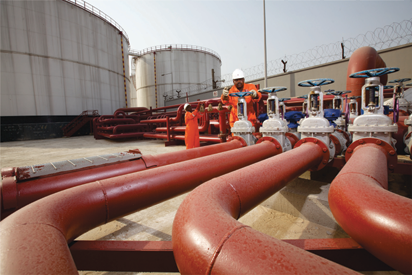 Oil rig worker
By Sonny Atumah
Many Third World nations joined political bloc alignments of post-world war II to survive; a syndrome that conveyed paternalistic relationships rather than equality of nations. The phenomenon was prompted by the 45-year cold war rivalry between the American capitalist west and the Soviet communist east.
With the fall of the iron curtain in 1989 courtesy of perestroika and glasnost (restructuring and openness), a unipolar power apparently emerged in America as a watch dog. The Russian Federation and the People's Republic of China from the communist divide however have veto powers on issues of global security; both being permanent members of the United Nations Security Council.
The role of America in global peace and security is well acknowledged though some global analysts accuse America of double standards over controversial countries classified as rogue nations. A rogue nation is one whose leadership intentionally refuses to adhere to conventions of international law, does not honour international treaties, and may engage in terrorism and warfare. Libya under Muammar al-Qaddafi, Iran under Mahmoud Ahmadinejad, Zimbabwe under Robert Mugabe and reclusive North Korea under Kim Jong Un have been put in this category.
Critics point out American flaws of looking the other way when their favourable economic interests are adequately protected. They refer to vicious dictators including Teodoro Obiang Nguema Mbasogo of Equatorial Guinea, Idriss Derby of Chad, Islam Karimov of Uzbekistan whose serial human rights violations and abuses are legendary.
Venezuela's President Nicolas Maduro's anti-capitalist rhetoric stance may have courted the wrath of the United States. Maduro (a Daniel) is being brought to judgment for constituting a 545 member special assembly on July 30 to rewrite the country's constitution to solidify the socialist system installed by the late President Hugo Chavez in his 14 years rule.
The OPEC nation depends on oil exports to the United States to import basic necessities including food and medicaments now in extreme short supply. The crude oil price slump of July 2014 has battered the oil rich communist nation's economy. The deepest recession ever experienced in the 31million nation has a runaway inflation of 190 percent with economy that shrank by 5.7 percent in 2016.
Venezuela has the largest crude oil reserves in the world with a robust subsidy culture for petroleum products. Maduro's increment of gasoline pump price to N12.24 per litre and with a relative poor management style made him have a fragile grip on the economy. He witnessed weeks of protests fueled by widespread food shortages, inflation and crime that caused over a hundred deaths last April.
There have been international pressures from countries and organizations on Maduro to dismantle the legislative body. President Donald Trump last week pushed back on economic sanctions including a ban on oil imports he earlier slapped on Venezuela. International watchers were quick to add that, but for the cries of the Gulf coast refiners, Trump was not to back down on sanctions.
The Associated Press reports that the American Fuels and Petrochemicals Manufacturers wrote Trump that there was no guarantee that other key sources of U.S heavy crude would provide enough supplies to replace Venezuelan crude. The option of Saudi oil meant a higher cost for the American consumer. Nine companies including Chevron, Valero, Citgo, and Phillips 66 process Venezuelan crude in more than 20 U.S. refineries along the Gulf Coast states of Texas, Mississippi and Louisiana.
Venezuela is the third largest supplier of crude to the U.S. An import ban means high gasoline cost and job loss in America than it would affect the Maduro administration. Maduro's sins may never be forgiven is his roles in assisting his country cultivate friendly relations with Libya, Iran and Zimbabwe.
Again, Venezuela's state-run oil company, Petroleos de Venezuela SA (PDVSA), owns Citgo and operates sophisticated refineries in Lake Charles, Lemont and Corpus Christi  with a  combined refining capacity of 800,000 barrels per day, bpd. With another one coming up at Aruba, total capacity would increase to 1million bpd. Citgo operates 48 terminals, nine pipelines and three lubes blending and packing plants, with a storage capacity of over 22 million barrels, one of the largest energy networks in America.
As Maduro became cash strapped in December 2016, he used PDVSA to obtain a loan from Rosneft (Russian state owned oil company), using 49 percent stake in Citgo as collateral. This is the crux of the matter.  Should Venezuela's PDVSA default in their major payment in October or November, Russia may take over a major American infrastructure thus jeopardizing energy security and interests.
Rosneft is on the American sanction list for allegedly fuelling conflict in Ukraine. Again, there is rift between Russia and America over Russia meddling in the 2016 Presidential election, the conflict in Syria and issues of cyber-crime.
The humanitarian concerns in Venezuela should not be relegated to the background. Infant mortality should be brought under control. Let the two powers that be avoid the attendant risk of sovereign default in Venezuela. Maduro save Venezuela!