ObiAbuja -The National Orientation Agency (NOA) has embarked on strategic campaign on social media platforms as part of its effort to reach the youths and confront hate speech and intolerance.
The campaign on social media platform is tagged: #Say No To Hate Speech.
Dr Garba Abari, the Director-General, NOA made this known at a news conference on Thursday in Abuja on the rising wave of hate messages in circulation.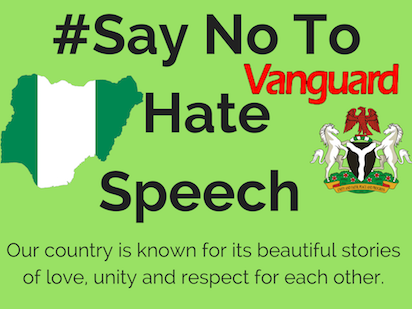 Abari urged journalists, media organisations and digital citizens to join in the effort to increase the visibility of the campaign on social media, making it go viral.
He also appealed to digital citizens on social media to refrain from hate speeches.
"Please, do not share posts, retweet or spread any message containing any form of hate speech against any individual, group, ethnic nationality or region.
"There is an urgent need for all men and women of goodwill in Nigeria to take measures to curb hate speeches and promote national cohesion, love and unity.
"We especially urge Nigerian celebrities to exhibit patriotism by volunteering to become national peace ambassadors at this crucial moment in our nationhood in order to effectively influence and stir the youths away from anti-peace tendencies.
"In the last few months, our country and its people have witnessed a disturbing trend in the social and political conversation that sometimes call to question our tradition of friendship, love for neighbour and sense of unity.
"This trend appears to give the impression that we have not learnt anything from our past and well thought out programmes of integration and unification have not yielded fruits," Abari said.
He appealed to Nigerians not to allow misunderstanding and lack of appreciation to blur the beautiful diversity for which the world admired the country.
"NOA is against the level of division and hate that is being expressed in the conventional and social media and even on the streets about ourselves.
"If you look at the social media, a channel mostly used by our youths, you will notice that the voices of hate is what you hear.
"The government is concerned about this because that is not who we are.
"Our country is known for its beautiful stories of love, unity and respect for each other. For more hundreds of years, the various communities in our country have had relationships that were consolidated at Independence.
"You will recall that the Acting President, Prof. Yemi Osinbajo, devoted most of the last two months in consultations with leaders of thought from every region and group to re-emphasise the imperatives of our unity.
"From those consultations, it is clear that our leaders, traditional rulers, religious groups, political organisations and parties and our women are in one voice for the unity of our dear nation.
"The latest disturbing aspect of this trend is that of hate songs. NOA is in possession of at least three songs already recorded to preach hate in our communities.
"Two out of these songs are in mass circulation in the social media, particularly on Facebook and Youtube," Abari said.
The NOA boss said the agency would soon embark on a nationwide advocacy campaign against hate and intolerance, which will focus on leaders of thought in all states of the Federation. (NAN)