…No, Mr DG, get your acts right, Nigerians reply
…MUCH ADO ABOUT NATIONAL IDENTITY
By Prince Osuagwu
SINCE the National Identity Management Commission, NIMC, announced that the National Identity Number, NIN, has become a major pre-condition for citizenship and that enforcement of no NIN, no international passport, may be in force January 2018, many Nigerians have been spoiling for war. While some feel that such pronouncement has no basis at all, others argue that it was too hasty, considering the precarious nature of the Nigerian state at the moment and the heterogeneous population of the country.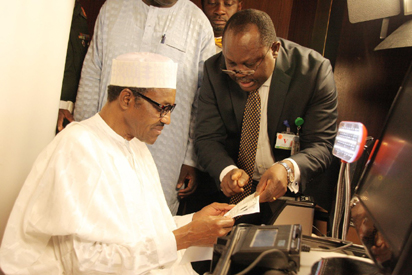 The first salvo was fired by social commentator, Luke Onyekakeyah, who in an opinion article in a national newspaper, described the order as 'lawless'.
Arrogance and impunity
He said that "an indication that from January 2018 anybody who does not have the National ID card will not be issued with Nigerian passport is misguided and uncalled for. It smacks of arrogance and impunity on the part of the National Identity Management Commission (NIMC) and the Nigeria Immigration Service (NIS). The deadline is illegal…"
Part of Onyekakeya's argument is that "whereas there is a law establishing both the National Identity Management Commission and Immigration, there is no law that says that obtaining passport is predicated on having the National ID card/number. It is, therefore, absolutely wrong for anybody to issue such lawless deadlines." He said that such deadlines, from experience, promote corruption as it could lead some officials of the agencies concerned to capitalise on the situation to fleece Nigerians.
Apparently, Onyekakeya was speaking the minds of many Nigerians as those who spoke to Hi-Tech, felt that the ultimatum was unnecessary, considering that both the national identity and the international passport are all legal means of identification which should complement each other.
Mr. Monday Eluwa, a Lagos based Chartered accountant said: "Honestly, I do not see the need for that kind of pronouncement. It is unnecessary and will so draw up arguments that will not help the economy in any way. Both documents are valid means of identification, so why making one inferior to the other; because if you say that I can't get this, if I don't have the other, you have clearly told me which one is more important.
"I think what NIMC should do is to create more awareness on the exercise and as well design a strategy that will not only get Nigerians trooping to their centres for registration but also make it easier for them to register and have their numbers/cards instantly. Threats have never worked in Nigeria and can never ever work."
Janet Edukpaye, an insurance broker based in Lagos said that NIMC should have been more tactful with the pronouncement, knowing that a lot of people are aggrieved over alleged inability of the commission to release the cards of many Nigerians who have registered for the exercise long time ago. His words; "My take is that NIMC was a bit careless in that pronouncement. They should have ensured that scores of people who have registered but have not received their cards are conveniently settled before coming up with a deadline. I just feel that it was an undue excitement over a perceived successful harmonisation that led the commission to commit the blunder. But we can also get it right; we are Nigerians, after all."
Meanwhile an Enugu based civil engineer, Emeka Mgbo, saw the whole thing differently. "We make issues about everything. I believe that NIMC didn't actually mean it the way Nigerians are taking it. We understand our people better, if you don't put such restrictions and deadlines, no matter the strategy you apply, people will still feel reluctant to go and register.
"However, the commission also has some blames. For instance, I have not seen their centre in Enugu where I live and as I came to Lagos to buy materials I have approached a few of the centres, the queue I saw was frightening. They should try and decongest the centres and make the whole thing less cumbersome" he added. NIMC recently got the nod of federal Government to make the National Identity Number, NIN a major pre condition to becoming a citizen of Nigeria. What it means is that those who have not taken part in the NIMC registration exercise, are running the risk of not being recognised as Nigerian citizens.
In addition they may not be able to renew their driver's licences, international passports and other important papers as government says it has concluded arrangement to begin enforcement soon.
Director-General of the National Identity Management Commission (NIMC), Engr. Aliyu Aziz, had at a press conference in Lagos, warned that any Nigerian without the National Identification Number (NIN) issued by the commission runs the risk of being regarded as a non-Nigerian citizen.
He, however, revealed government's willingness, to further enlighten citizens on the importance of enrolling to obtain the National Identification Number, after which it will begin enforcement immediately. He said that NIN fully confers on any citizen so enrolled, Nigerian citizenship. Aziz said: "It is the duty of every citizen to enrol and obtain his or her National Identification Number, which entitles one to be fully regarded as a Nigerian citizen. Without the NIN anyone's claims of being a Nigerian citizen are doubtful; that is what the NIMC Act stipulates."
NIMC may have considered the projections that Nigeria's population may shot up astronomically between now and 2050 and decided to entrench a system that would make for easy identification of who the right citizens  are. But a lot of people are faulting the approach.
Benefits of NIN
Besides conferring full citizenship on a person, National Identity Number, NIN, also ensures one person one identity, enhances participation in the political process, is an important tool for fight against corruption and terrorism, enables citizens to exercise their rights and facilitates management of subsidies and safety net payments to Internal Displaced Persons.
Other benefits of the NIN are that it facilitates service delivery in Ministries, Departments and Agencies; enhances the work of Law Enforcement Agencies thereby providing public safety, policing, national security and border protection, helps launder Nigeria's image, eliminates ghost and multiple identities and enhances ability of citizens to assert their identity.
The NIN also enhances access to credit from financial institutions, protects citizens from identity theft thereby being an antidote to identity theft driven frauds, it expands access to other financial services including insurance, it enhances e-commerce by providing a means of payment, it is a tool for non-repudiation and security for financial transactions and it facilitates financial inclusion and encourages cashless economy.
Formation of NIMC
NIMC was established by the NIMC Act No. 23 of 2007, as an offshoot of the Department of National Civic Registration (DNCR), to create, establish and maintain a Unique National Identity Database, register persons covered by the Act, assign a Unique National Identification Number (NIN), provide authentication platform for identity verification, issue General Multi-Purpose Cards (GMPC) and harmonise and integrate existing identification databases in Nigeria.
So far, the commission says it has populated the National Identity Database, which currently boasts of about 18.5 million records, established up to 809 NIN enrolment centres nationwide, launched the new electronic National ID Card with multiple functions, achieved GVCP Certification and recertification of the NIMC Card Personalisation Bureau in 2014, 2015, 2016 and 2017, as well as deploying backend Infrastructures like the ABIS, NIDB Storage, security network and data centres.
The commission also has commenced the enrolment of minors between the ages 0 – 16, even as it claims to have over 900 registration centres spread all over the nation. The centres are said to be cited in rural, urban, public institutions, banks, government agencies offices including NIS and all the 776 local government areas in Nigeria. NIMC says it does not just do online registration but also assists people whether they are literate or not.