By Perez Brisibe
UGHELLI—THE landlord of Mr. Segun Austin Ojumola, the man who tied his 13-year-old son to a burglar-proof for three days, yesterday, told Vanguard that the suspect had done same to his eldest son in the past.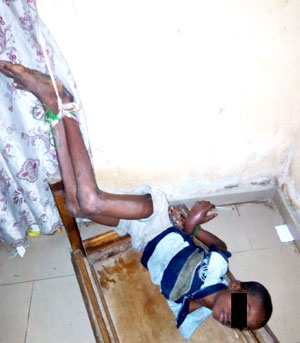 Mr. Ojumola and his wife, Mrs. Edijala Favour Segun, who tied the boy to a burglar-proof because a pastor told them his son was a wizard, are currently remanded at the Warri Prisons, Okere, after arraignment by the Police.
Speaking exclusively with Vanguard at their Eruemukohwarien residence, the landlord, George Esharive, said that before the 13-year-old, Tobi Segun, was tied by his father, he had done same to his eldest son, Goodluck Segun.
George said: "Segun and his family were attending a white garment church when he packed in here. But owing to his quest for miracles, he left the church and consistently moved from one prayer house to another.
"His current wife moved in following the death of his first wife, who bore him his five children— Goodluck (late); Suen, 16; Tobi, 13; Shola and Favour, four.
"The day Tobi was rescued, people asked where Goodluck is and narrated how he (the father) used iron to burn him.
"I even asked the children what happened to Goodluck. They said he fell ill as a result of consistent beating by their father and he was taken to an unknown destination.
"As for Tobi, before he was rescued, the father had initially chained him on allegation of being a wizard but fortunately, Tobi was able to wriggle himself free from the chain and escaped.
"Angered by his ability to free himself from the chain, Segun then tied Tobi's legs with a rope to the window and his hands behind him for three days without food, after burning his hands and feet with hot iron before he was rescued."