Madrid – At least 13 people were killed after a van ploughed into crowds in Barcelona's Las Ramblas avenue in the city centre on Thursday, Cadena Ser radio station reported, citing police sources.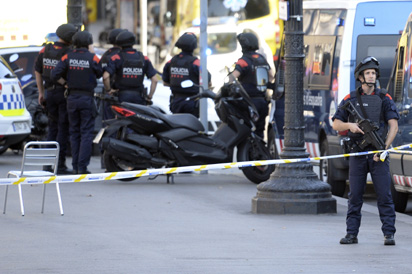 Other media including El Pais said there were at least 10 dead. A police spokeswoman could not immediately confirm the number of casualties.
Madrid (dpa) – A van that ploughed through a crowded pedestrian street in Barcelona is being treated as a terrorist attack, police said Thursday, as local media reported that at least 12 people were feared dead.
Police said on Twitter that multiple people were dead and injured and the attack is being treated as a terrorist attack, police said.
Europe has been hit by a series of terrorist attacks using vehicles in the last two years, including deadly incidents in Nice and two in London.
Videos on social media showed a van travelling with its side door wide open at high speed down a pedestrian area of Barcelona's popular Las Ramblas district.
A police spokesman said that they were not exactly certain what happened.
Newspaper El Pais reported that two suspects in the incident had barricaded themselves in a nearby restaurant.
Authorities are warning people to stay clear of the area. (Reuters/NAN)