By Simon Ebegbulem
BENIN CITY—GOVERNOR Godwin Obaseki of Edo State, yesterday, said his administration was determined to deliver institutional reforms and economic revolution based on the rule of law.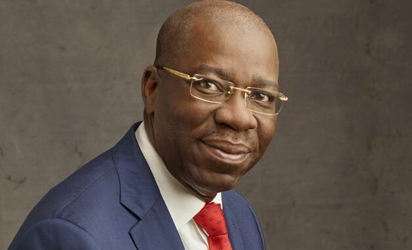 The governor, who disclosed this when he received the executive members of National Industrial Court led by the President, Justice Babatunde Adejumo, who paid him a courtesy visit at Government House, Benin City, noted that it was impossible to have real democracy or industrial/economic growth without the rule of law.
He said:  "As part of our strategy to make this state a judicial hub, it is in our interest to have the full complement of the judiciary structure in Edo State and for us to attract investment and investors to the state, there must be peace and harmony.
"The rule of law is core to our strategy. We want to be the major economic hub in the country and we must do all within our power to attract investments and investors to the state, grow the economy and make it a major hub.
"We must make the state attractive both in financial and social terms, ensure the court system works and give a general sense that things work and are orderly in the state."
Earlier, President of the court, Justice Adejumo, pointed out that the quest to establish an industrial court in the state was nine years old and commended the Obaseki-led administration for making that vision a reality.
"Our aim is to ensure harmonious industrial relations between the government and the employees. If the work place is not peaceful, the governor will not be able to perform. What determines the success of a state is the harmonious and peaceful industrial relations with the employees," he said.