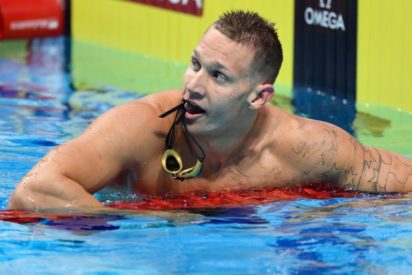 US Caeleb Remel Dressel reacts after competing in the men's 100m butterfly semi-final during the swimming competition at the 2017 FINA World Championships in Budapest, on July 28, 2017. / AFP PHOTO / CHRISTOPHE SIMON
Caeleb Dressel is on the verge of a super Saturday at the world championships after clocking the fastest times into both the men's 50m freestyle and 100m butterfly finals.
America's Dressel already has three gold medals in Budapest following victories in the 100m freestyle, plus 4x100m freestyle and mixed 4x100m medley relay wins.
The 20-year-old clocked 21.29 secs in Friday's freestyle semi-final, then half an hour later blasted out 50.07 in the fly semis to make him the name to beat in both finals on Saturday.
Singapore's Joseph Schooling, the men's Olympic 100m butterfly champion, was fourth fastest into the butterfly final at 0.71 behind Dressel and could only admire the American's stamina.
"Caleb's just been phenomenal — he's just had an amazing meet," said Schooling.
"He's been on form, no one can touch him right now. It's pretty impressive actually, it makes for an exciting race tomorrow."
Katie Ledecky can pick up her 14th career world gold on Saturday, while sprinter Sarah Sjostorm hopes to fix her freestyle heartache with butterfly gold.
– Five-star Ledecky –
Ledecky, the most decorated female swimmer in world championships' history, was the fastest into the women's 800m freestyle final.
Should the 20-year-old favourite defend her title, it will give her a fifth gold in Budapest.
She has already won freestyle golds over 400m and 1500m, plus the 4x100m and 4x200m relays, as well as silver in the 200m freestyle, and it would be her 14th overall.
"I'm excited. I always enjoy my last race at a meet, just giving it all and leaving it all in the pool," said Ledecky.
Sweden's Sjostrom is hoping to heal her hurt from losing the women's 100m freestyle final on Friday, by just 0.04secs to America's Simone Manuel, before clocking 25.30 seconds as the fastest qualifier into Saturday's 50m butterfly final.
She can complete the butterfly sprint double after winning the 100m gold on Monday.
"When I was on the podium (for the 100m freestyle), I saw how close I was to the gold, my finish was really bad, you don't deserve to win the gold if you swim like that," said Sjostrom.
"I won't talk about a comeback, if I'm fourth or fifth tomorrow that's how it is — I want to talk about medals."
– Storming Seebohm –
Australia's Emily Seebohm, the defending world champion, says she will learn from Sjostrom's freestyle defeat when she races in Saturday's 200m backstroke final after clocking the fastest time of 2:05.08 in Friday's semis.
"Anything can happen tomorrow night — we saw that on the 100m freestyle — just because someone's in lane four and got the world record and has the fastest time, doesn't mean they're going to win," said Seebohm, who has a bronze in Budapest over 100m.
Canada's Kylie Masse, the world record holder over 100m, was just behind at 0.16 behind Seebohm.
The Australian said fear of missing out on a place in the final inspired her fast time in the semi.
"I guess I was watching the heat before and I decided that if I was too slow I might not get through," said Seebohm.
"I'm just going to go out there and enjoy it.
"I have a world title from 2015, it's not like I need the pressure of getting a second.
"I'm just going out there to enjoy it if I can go a little bit faster than tonight I'll be happy."