By Johnbosco Agbakwuru
Governor Rochas Okorocha of Imo State has sent a warning signal to whoever will take over from him after the expiration of his eight year tenure as the governor of the state, saying that his successor could risk being stoned if his performance falls below the standard he had set in the state.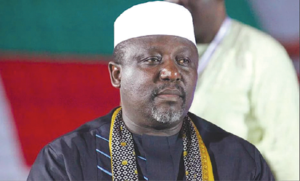 The governor also claimed that his administration had spoilt the people of Imo with infrastructural development which he said will be a legacy to be left behind when he completes his second term.
Okorocha who disclosed this in Abuja in an interview with State House Correspondents, explained that what his administration had done in Imo State in the past six years could be comparable to what other governors in that state whether living or dead had done.
He said that when he concludes his term and leaves the state house, he would be remembered as "a good governor who impacted positively on the lives of the people."
His words: "I am in this job not for the profit of it but for the honour and glory of the job. So I want to leave a legacy. I want Imo people to miss me and they will definitely miss me. Believe you me they have not seen such developmental work before now and they will miss it.
"The only problem I have is that anybody that comes after me and does not perform will be stoned. Because you cannot come to Imo State now and say you want to abolish free education from primary to university, they will not accept. I have spoilt Imo people believe me.
"You cannot come to Imo State and say you want to give them a single lane road when they are now used to eight lane road in the city, they won't accept it. You cannot come here and tell the children to go to schools where the floors are not tiled they will not accept because all the schools have been rebuilt. I have rebuilt 450 schools."
Although most of the hospitals the administration started over three years ago were yet to be completed and have not taken off, the governor claimed that, "You can no longer take them to those ramshackle hospitals, those shanties they called hospitals because I have built 27 to 200 bed general hospitals. You can no longer tell them those stories. All the infrastructures are there.
"You cannot tell them that there are criminal activities any more and that your hands are tied they will not accept it because we know where we brought Imo from, from unsafe place to a safe place right now. And you can no longer tell our workers to dress shabbily they will not, they will want to dress in their suits and tie and white shirts. So Imo has changed believe me."
Giving himself pass mark, he said, "I stand to be challenged and corrected by anybody that what we have done in Imo State in six years can be comparable to what any governor in that state living or dead has done.
"And if we put all of them together, I can't say whether they can match what we have done. Have you seen me sounding boisterous? That is the truth. But the point is I don't make media noise, I don't make foundation laying stones Programme, I don't bring women to dance because I want to lay foundation project. I don't commission projects because for me it doesn't make sense.