By Ayo Onikoyi
Hollywood Blockbuster, 'War for the Planet of the Apes' is set to hit the Nigerian cinemas. The sequel to the 2011 film Rise of the Planet of the Apes and the 2014 film Dawn of the Planet of the Apes will make its cinema debut on Friday, July 14.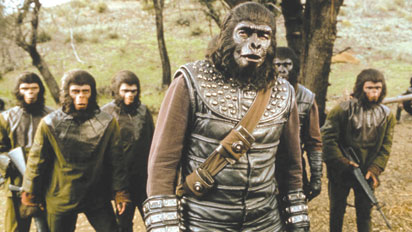 The movie which had its special private screening on the 7th of July, 2017 at the IMAX cinema, Lekki is being distributed in Nigeria by the FilmOne Distribution Limited.
The movie tells the tale of Caesar and his apes, two years after the events of Dawn of the Planet of the Apes. They are forced into a deadly conflict with an army of humans led by a ruthless Colonel. After the apes suffer unimaginable losses, Caesar wrestles with his darker instincts and begins his own mythic quest to avenge his kind. As the journey finally brings them face to face, Caesar and the Colonel are pitted against each other in an epic battle that will determine the fate of both their species and the future of the planet.
According to Mr Moses Babatope, Executive Director of Filmone Distribution Limited, "The special effects and action sequences in this film will blow you away. It's action on a whole different level"
BBB Media CEO, Samuel Olatunji also speaking at the exclusive screening of the movie said 'This movie is being screened exclusively to a selected audience for the first time in Nigeria by our client, Filmone Distributions Limited. The movie like its prequel is awesome; from the story to the production and we are confident it will do well at box office. It is a movie for everyone and it will be in cinemas from 14th July.'
Written and directed by Matt Reeves, the action/adventure movie produced by 20th Century Fox stars Andy Serkis, Woody Harrelson, Steve Zahn, Amiah Miller, Karin Konoval, Judy Greer and Terry Notary.