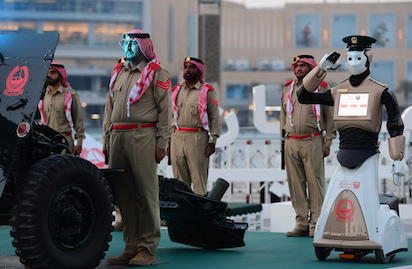 The world's first operational police robot stands at attention as they prepare a military cannon to fire to mark sunset and the end of the fasting day for Muslims observing Ramadan, in Downtown Dubai on May 31, 2017. / AFP PHOTO / GIUSEPPE CACACE
Under -50 Palestinian Muslims will not be allowed to enter the Holy site in Jerusalem, for Friday prayers, Israeli police said today, escalating the tension in the area.
"Entry to the Old City and Temple Mount will be limited to men aged 50 and over. Women of all ages will be permitted," a police statement said.
Tensions have risen after Israeli police installed metal detectors at entrances to the Haram al-Sharif mosque compound, known to Jews as the Temple Mount, following an attack nearby that killed two policemen.
The move angered Palestinian and other Muslims who saw it as Israel asserting further control over the site.
Palestinians have been refusing to enter the compound since then, and hundreds have been holding prayers outside, with clashes occasionally breaking out with Israeli police.
The main weekly prayers on Fridays draw the largest number of worshippers, and speculation had been mounting that Israeli Prime Minister Benjamin Netanyahu might order the metal detectors removed before this week's prayers.