By Evelyn Usman & Jefferson Okeke
A 22-year-old graduate, who was arrested during a foiled robbery operation at a Lotto company in Ajagbadi area of Lagos, yesterday, began crying when he was informed that his pregnant wife had been delivered of a baby.
The suspect, Saidi Ayemojuba, who confessed that he joined a robbery gang due to frustration, explained that he went for the operation at the lotto company with the hope of using its proceed to prepare for his baby's arrival, after which he would quit robbery.
He disclosed that he started with a gang which specialised in attacking passengers, leaving early for their respective places of work, four years ago.
Narrating his gang's modus oparandi, Ayemojuba, whose operational name is Aleeba, meaning I can't be caught in Yoruba dialect, said at times members of his gang would mount a motorbike, only to snatch it from its rider, half away into the journey.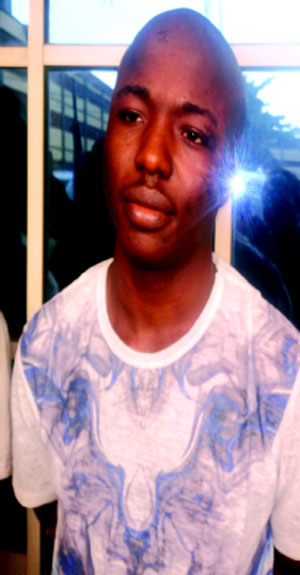 Thereafter, the motorbike according to him, would be sold at give away price to ready buyers with the proceeds shared among those that partook in the operation.
At other times, he said that members of the gang would position themselves at Cassidy bus-stop along Mile 2/Badagry expressway as early as 4.30am, pretending to be passengers.
They would board a commercial bus, only to order the driver to stop half way, where innocent passengers would be dispossessed of their valuables.
Journey to prison
However, during one of the operations at Iyana Sashi, he was arrested three years ago after members of his gang planned to snatch a bag from a woman. Ayemojuba was arrested and charged to court, from where he was sent to prison.
Upon his discharge, he told Vanguard that he joined another robbery gang whose leader he met in prison.
According to him, "I decided to quit robbery when I came back from prison. But I could not find any good job even with my certificate.
"One day, I got a call from an inmate I met while in prison. He told me there was a job he would like me to execute. I met with other members of the gang and a worker at a Lotto company at Ajagbadi, who told us that they usually left money.
"We stormed the place at about 1p.m. I stood at a vantage position, where I was given a bag containing the money. But one of the ladies in the company ran out and raised the alarm which led to my arrest.
"Others managed to escape. I was beaten until I passed out, only to find myself at the police station.
"The only regret I have is not to have welcomed my new baby to the world. I don't know what they will tell her. I thought of using the lotto money to prepare for her arrival, after which I intended to quit robbery finally.
"I am naturally not a bad boy because anytime I came back from operation, a gush of guilt will overwhelm me. I went into this out of frustration. No job , even after having my HND"
The suspect, who was paraded alongside other suspects at the Lagos State Police Command headquarters, Ikeja, according to the command's boss, Fatai Owoseni, will be charged to court, even as he warned criminals to leave Lagos State.