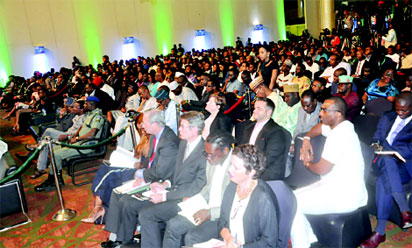 Cross section of participants at the summit
BY OSA AMADI
The date was July 17 to 18, 2017, and venue was the Convention Centre of Eko Hotels & Suites, Lagos, Nigeria. The event was Creative Nigeria Summit and the theme was Financing the Film, Television and Music Industries.
Although film and television dominated the Creative Nigeria Summit, music, which has always been the king of the Creative Arts, proved to be the shining bride of the two-day conference. There was testimony galore about the success of Nigerian music, nationally, continentally, and internationally.
Nigerian-born, US-educated Alex Okosi, Executive VP & Managing Director, Viacom International Media Networks Africa, who was responsible for developing and launching MTV Africa (MTV Base) in 2005, which showcases the best of African music and entertainment, testified that "Our (Nigerian) music is all over the world. There is no nook and cranny of Africa you go now that you won't hear Nigerian music. The world is looking at Nigerians as corrupt people, but our musicians are making us superstars," okosi said.
Another testimony for the success of Nigerian music came from Dr. Armstrong Idachaba of the office of the D-G, National Broadcasting Corporation, who said that "Over 80 percent of music content on Nigeria media now is Nigerian."
Although Idachaba claimed that the success of Nigerian pop-music was due to the enforcement of the 60-40 percent local content quota code of NBC for broadcasting media, a 2006 research on "African versus Western Music on Lagos radio" at Lagos State University by Osa Amadi and another by Professor Anthony Olorunnisola of Pennsylvania State University and Osa Amadi in 2007, found that presenters and producers of music programs in Lagos did not obey the NBC's 60-40 percent local content quota code in music programming.
So the revolution that occurred in the Nigerian pop-music after the 2006 and 2007 study by the two media scholars certainly had nothing to do with the grossly flouted NBC local content quota code.  There have to be other explanations for the explosion of the Nigerian pop-music.
Also lending his voice to the testimony, Tony Okoroji, Chairman of the Copyright Society of Nigeria (COSON), agreed that "Nigerian music is allover Africa." He said 80 percent of music in Accra, for instance, is Nigerian music, but unfortunately, they are pirated copies.
Fighting piracy, Okoroji said, is government's responsibility. He argued that stronger legislation and technology can help deal with piracy. "If it is Nigeria's stolen oil that is being sold allover Africa, would Nigerian government fold its hands and watch?" Okoroji questioned.
Stakeholders agreed that works of Nigerian musicians are all over the world now, but the musicians are not making commensurate money. They commended telecommunication companies for providing lacking distribution channels for Nigerian music, but at the same time rebuked them for taking an exorbitant 90 percent of the proceeds, leaving a paltry 10 percent for the artist and the industry.
At that point, filled with emotion, the Honourable Minister of Information and Culture, keynote speaker and organizer of the summit, stood up and said: in the olden days when we go to farm and stepped on thorns, we limped and hopped to our father who always helped us to remove the thorn from our feet. Now, you are my children. Whenever you step on thorns in the process of doing this work, come to me, the minister said and received a resounding applause.