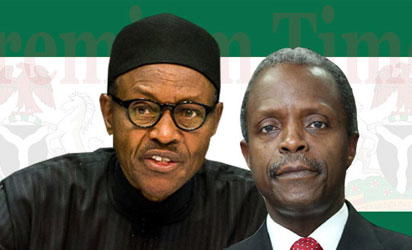 President Muhammadu Buhari and Vice President, Yemi Osinbajo
By Johnbosco Agbakwuru
ABUJA – ACTING President, Prof. Yemi Osinbajo on Wednesday said that President Muhammad Buhari who has been on medical vacation in a London hospital was recuperating and will return to Nigeria very soon.

Prof. Osinbajo had left to London on Tuesday after holding Presidential Quarterly Business Forum with the private sector at the Old Banquet Hall, Presidential Villa, Abuja on Tuesday.
After the brief meeting with the county's number one citizen, the Acting President returned back to Nigeria to preside over the Wednesday's Federal Executive Council, FEC, meeting.
Speaking to State House Correspondents on the outcome of his meeting with the President, Prof. Osinbajo said the meeting was fruitful as he was able to see Buhari face to face and that he briefed the recuperating President on the activities in the country
He said the President will soon come back to the country.
The interaction went thus: You just got back from seeing Mr. President, what did you discuss with him?
"Well, first as you know I went to see him, I went to check up on him find out how he was doing. I had of course been speaking on the phone and I thought it will be a good thing to go and see him and you know generally check up on how he was doing and also to brief him on developments back at home.
"So we had a very good time, we had a very good conversation on wide ranging issues and he is in very good spirit, he is recuperating very quickly and he is doing very well."
What is the state of health of Mr. President?
"Well, as I have said he is in very high spirit, he is recuperating very well and we had very long conversation, we spoke for well over an hour and his humor is all there. He is doing well and he is recuperating fast."
When is he due back?
"I think very very shortly. Very shortly. I think we should really expect him back very shortly. Like I said he is recuperating very fast and he is doing very very well."
Was the report of the suspended SGF and NIA DG part of your conversation?
"Wide ranging issues I really can't go into specifics of all of the discussions we had."
Was swearing of the two ministers part of the discussion?
"No. We didn't discuss swearing in or anything like that. We didn't discuss when they will be sworn in."
When will they be sworn in?
"Well, I'm not in a position to say exactly, I don't have a date in mind but I'm sure very very soon we will do that."
Are we expecting Mr. President before 90 days?
"No no. Deadlines aren't a very good thing but as I said he is recuperating fast we expecting him very shortly. Much sooner perhaps than you will expect."