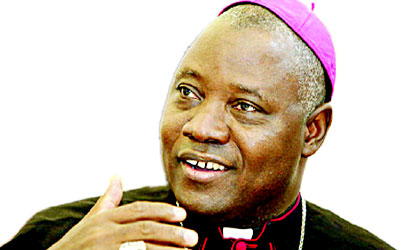 Archbishop kaigama
…Six days to the end of papal's ultimatum
By Sam Eyoboka
SIX days to the expiration of the papal ultimatum to Catholic priests of the Ahiara Mbaise Catholic Diocese to write apology letters as precondition for their continued stay as clerics, there appears to be no sign of remorse on their part.
They are insisting that Bishop Peter Okpaleke, who was appointed to preside over the affairs of the diocese in 2012, be redeployed and a son of the soil  appointed as bishop. We got the President of the Catholic Bishops Conference of Nigeria, CBSN, who is also the Bishop of Catholic Diocese of Jos, Archbishop Ignitius Kaigama, to speak on the standoff.
People are worried about the development in Ahiara Diocese and we thought we should get in touch with you to get proper briefing on developments there. What is the state of affairs in that place now?
I'm in Jos and very far from Ahiara. I don't know what is happening there right now. Perhaps somebody from there will be able to tell you exactly what is going on.
But we heard that you led a delegation to the Vatican not too long ago and there was an order from the Vatican. We want to get the perspective of the Catholic Bishop's Conference as the President.
You know Ahiara was given a bishop by Pope Benedict XVI. He appointed  Peter Okpalaeke as bishop and then Pope Francis confirmed him and he was ordained. But he has not been installed as the Bishop of Ahiara because of some resistance. And this has lingered for close to five years now and the Church has hoped that there'd be some sort of understanding and the issue will be resolved so that pastoral work can resume, but, unfortunately, that has not happened.
It seems that the diocese is not willing to allow Bishop Okpalaeke take up his ministry as  residential bishop. A lot of talks have been going on; a lot of negative writings and sentiments have been expressed by the people in Ahiara and some abroad. You can check the internet for some of the writings which is not characteristic of  Catholic Church.
Majorly we settle matters internally and with great respect for our leaders and those in authority, but somehow things have gotten out of hand and it's like there's no culture or order of respect. Some personalities in the church have been called names and allegations have been made. It is in that regard that we keep praying that a solution will come. But the more we try to hope for a solution, the more the problem seems to deepen and the insistence that Okpalaeke cannot be a bishop in Ahiara, that only a son of the soil can be bishop there.
It's what the Catholic Church does not accept because it's not done that way. Now the Pope, having listened to all that has been said and done, invited a delegation of Ahiara people to Rome. He wanted five people who don't support the appointment of Bishop Okpalaeke and five others who support the appointment. Ten of them were expected to be in Rome to have a very personal meeting with the Pope. I had to go in my capacity as the President of Bishops Conference, Cardinal Onaiyekan as Apostolic administrator of Ahiara, and then the Metropolitan Archbishop of Owerri.
We had a rigorous period of prayer and retreat and serious discussions with all those that matter; the Secretary of state, the Prefect of the Congregation for the evangelization of people and many top dignitaries of the Catholic Church. After all our prayer and discussions, the Pope had to meet us and had his word for us.
The word was spoken and everybody had heard the word now because it was written down and communicated to the whole world. And it is for the attention of the people of Ahiara, particularly the priests. It affects them a lot because the Pope demands that they should apologize for causing all the problems that they have caused to the faithful in Ahiara. And for not obeying his orders, they should write a letter to apologise.
Those who do so (apologise) before July 9, 2017 will definitely be warmly embraced by the Holy Father. Those who choose not will definitely incur what is called suspension a divinis. That means they cannot function any longer as Catholic priests and they cannot administer the sacrament and they cannot occupy any ecclesiastical office. That is the directive of the Holy Father and we have nothing other than to wait and see prayerfully that the priests of Ahiara will heed the call of the Holy Father, write to him and make up and then resume duties as Catholic priests in respect of the obedience every priest promised at ordination. You promised obedience to the local ordinaries, to the entire church and this is the test to that obedience.
Were the 10 people represented at the meeting?
No. The five who have no objection to the appointment of Bishop Okpalaeke, they  were all people of Ahiara. There was a traditional ruler; there was a reverend sister and three other priests. They represented the faction of the group that supports the appointment of Bishop Okpalaeke. The other group that does not support the appointment of Okpalaeke as bishop of Ahiara did not go. And there was no reason given. For us in the Catholic Church, that is not an acceptable way of behaviour because when we hear that the Holy Father is calling, we move immediately.
Have you found time to find out why the opposing delegation didn't show up?
It's not my duty to find out why they didn't go. They got information adequately and logistics were put on ground including transportation, accommodation in Rome, everything was arranged by the apostolic nuncio. All these were done in order to ensure that they would be able to go to Rome and meet the Holy Father according to the day and time agreed because the Holy Father is very busy and it is not normal that the Holy Father will invite a group from a diocese to come to him. It's strange, its unusual but he did it in the love for the people of Ahiara Diocese and he still expresses his deep love and concern for the people of Ahiara and he wishes to see that they are brought on board and things continue in the best Catholic tradition in that diocese.
We hear that the other side didn't get the invitation early enough to make preparations to be there.
You can hear many things, you know we are in the era of the social media and anybody can say anything. But when I talk to you, I talk based on facts. I got a letter; I know what the Catholic nuncio does when there is a communication from the Holy Father. They don't joke with it. We all got the same invitation. The time was short definitely but all logistics were guaranteed; visa, accommodation, transport fare and all. So there was no reason for anybody to say it was too short. And for God's sake, have you ever heard anywhere that somebody would say to the Holy Father that he should wait until they are ready to see him. It's never done in the Catholic tradition but that was done and it's not the way it should be.
Yes the time was very short. We tend to hear many stories like the letter was not real and it wasn't signed by the Holy Father. People should know that the Catholic Church has its tradition. There's a way we have been doing things for over 2,000 years and this is the same way things are done. They said a message to whoever is concerned and we get our information from the main station and then you act. You don't question or argue, you only ask for clarification and that is what we did when we got the invitation, Cardinal Onaiyekan, Archbishop Obinna and myself, we dropped everything in other to go to Rome. And that is the way Catholic priests should behave.
Is there anything in the Catholic Church that suggests that a bishop of any diocese must be an indigene?
That is certainly not in any law or tradition of the Catholic Church. When a bishop of a diocese is being looked for, they look for a qualified person in terms of human quality, administration quality, intellectual quality, emotional quality and many other such qualities. You don't look for a tribe or a particular individual. You look for somebody that has the qualities that are initiated in the canon law and somebody who has the spirit of God and ready to serve and ready to humble himself in order to do what is expected of him anytime and anywhere. There is no decree about having a person come from a particular geographical area, ethnic area or political area.
Similar things have happened before; they made reference to Oyo which had to do with Cardinal Okogie, Warri which had to do with Archbishop Lucas Nwaezeapu of blessed memory and some other places like that. Why do you think this is happening?
The church is made up of human beings. They say the church is both human and divine. The divine aspect, you cannot contaminate, you can't do anything to destroy it, but the human aspect is always visible and there will be times of challenges, times of success, times of problems, times of many things. And that is why we have a system to deal with such.
It will always happen, it's not only in Nigeria, whether in India, America, Germany, you have these kinds of problems but they can always be resolved in the spirit of respect and that has happened even in Sierra Leone nearby here. At the end of the day, the priests involved wrote a letter to the Holy Father and begged for forgiveness and that was the end of the matter. It is not that it doesn't happen. If it is truly a pastoral, spiritual and a Catholic problem, I think, by now, it would have been settled.
But I think there is more than meets the eye. Are we talking about a Catholic Church? Why should it take this long? There must be some other motives or reasons. I can assure you that if all that has been happening is about the Catholic Diocese of Ahiara, this problem would have been settled long ago but there are certainly some other factors that we do not know of and I can assure you, Catholic problems have always received Catholic solutions and we always have peace and that is why we continue to grow to the amazement of many people, we expand, we do wonderful things in the world as Catholics. The Pope is known as a universal spokesman in the church.
What do you think would be the resolution of this crisis beyond the letter that has been written and the instruction that has been given? Supposing these people insist, what is likely to happen?
Well, I can't tell. I am not presuming that they will refuse to obey the Pope. My belief is if they are Catholic priests, obeying as Catholic priests, they will listen to the Pope. Every day I pray, I say 'God make it possible that these people will listen to the voice of the Pope so that we are together as one family'. I am not thinking that they are going to disobey the Pope. I want to believe that even despite their feeling that they have not got what they wanted, they will still pay allegiance and pledge loyalty to the Pope. This is the Catholic tradition.
In some of the cases earlier mentioned, in Oyo for instance, Cardinal Okogie was withdrawn; in Warri, Archbishop Nwaezeapu was withdrawn. Isn't there a plan to withdraw Bishop Okpalaeke if these people insist so that peace will reign in the place?
We don't do mathematics in the Catholic Church. When you say Okogie was withdrawn, Nwaezeapu was withdrawn, that's an uninformed statement. There were other factors underground. The Catholic Church is such a system that if you don't know, you will just be making conclusions superficially and a very unhelpful one. Yes there was little resistance here and there but the reason  they were redeployed or sent somewhere was for some other reasons, not just because people didn't want them. How many bishops are we in the world?  It doesn't mean that every appointment will be a very happily accepted one but the church has a way of resolving issues very peacefully. Let's focus on what we have on ground.
Cardinal Okogie has been bishop for over 40 years; Nwaezeapu is gone to rest with the Lord. We are in the contemporary Nigeria where everybody should be feeling a sense of belonging. Now we are saying we are one Nigeria, nobody should tell Nigerians to leave one part and go to the other because they don't belong there. If we can insist that we feel at home and live and work wherever we are happily wherever we are, why should there be problems even in the church?  Within the same ethnic group, you have this problem and you think we should justify it because it happened in Oyo and Warri?
For God's sake, we have gone beyond that. We should rather think of how we can live together. If today somebody is brought from the east to be a bishop here or from the west to be a bishop here in the north, so we should scatter the whole place, if we are Catholics, we should see reasons. The church has a reason for doing what they do and, for God's sake, many people don't know the reasons behind all that is happening.  All they say is based on speculations of people's imaginations. I am an insider; I know the truth about all this. I know the origin; I know the issues at stake.
People are just speculating and I think speculations don't help us. And it is due to these speculations and imaginations that the problems have refused to die because somebody comes up with a theory, believes it and spreads it around as the truth and then everybody believes it in this era of social media and the facts remain distorted. Please let us ask the right questions and let's go to the right people and let's not allow people to deceive us because there are people who are bound to tell you what is not correct and people just swallow it without asking critical questions. The Catholic Church is much more complicated than it appears. If you want the facts, go to the right source.
We hear there are about 700 priests in Mbaise. Is there no one qualified to be a bishop?
And again, go and bring the statistics. Where are the 700 priests? I'm just coming from Rome. Rome has the list of every priest in the world. Where are they manufacturing the 700 priests? I know the correct number of priests incardinated into the diocese of Ahiara.
We know those who are ordained in Ahiara but working elsewhere. We know the correct number. Where did they manufacture these figures? And this is just meant to create more confusion. We agree they have a good number of priests, but that number is outrageous. And by the way this is democracy, who says those who have the bigger number become bishops? Then in that case, Pope John Paul II would not have been a Pope because the Polish people are just a tiny group. Pope Francis is Argentinean, they are not much in the world, he wouldn't have become pope.
It is not about numbers for God's sake. There are criteria. We wouldn't be able to tell you the whole story. There are facts under the ground that you will not know and I will not be able to tell you because of the situation and tradition in the Catholic Church. We won't come out to just talk anyhow. If we were to do that as people are doing, there'll be only more chaos but I know what has happened and I know the fact. Let people not distort the fact. If you are aggrieved, express your anger but in respect and with brotherly disposition. Let's not go and begin to do things that will portray us in a negative light. So please let's work towards unity. We are talking about the unity of Nigeria, and if we cannot talk about the unity of Catholics in Nigeria, then we are in trouble. This news has taken us so terribly far; I'm getting news from everywhere asking why are we so stubborn? Why are we disrespecting the Holy Father? It's an embarrassment to me as a Catholic and as a Nigerian.