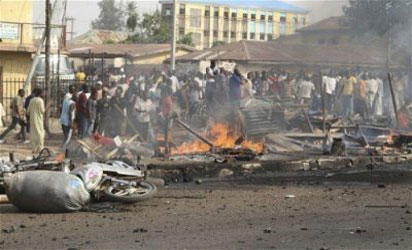 Boko Haram Attacks Maiduguri University
By Kingsley Omonobi
MAIDUGURI—No fewer than 12 persons were, yesterday, killed in Maiduguri, following the detonation of bombs in the city.
About eight persons lost their lives in the first attack, when a suicide bomber detonated explosives in the midst of worshippers in a Mosque, while the second, which claimed four lives, took place in another part of the city.
It was learned that the suicide bomber was being chased by security operatives, when she detonated the bombs strapped to her chest. About 13 other worshippers were also left with injuries in the deafening explosion.
Spokesman of Civilian JTF in the area, Danbatta Bello, who confirmed the incident, said the mosque attack took place at Zannari Street, along Maiduguri-Dikwa Road.
Bello said: "They were two girls that wanted to attack the mosque, but one of them got stuck on the barbed wire in a ditch. The second escaped and our operatives went after her. She rushed to the mosque and detonated the second bomb."
He added that two other female suicide bombers were gunned down at Mamanti Street of Maiduguri at the time the mosque was attacked.
A statement by the Commissioner of Police, Borno Command, Damien Chukwu, confirmed the incident.