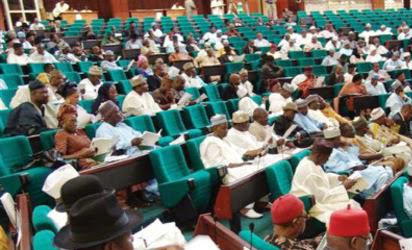 House of Representatives
By Emman Ovuakporie
ABUJA—The House of Representatives yesterday moved to probe the status of the N5.1 trillion abandoned federal projects nationwide.
The lawmakers also at plenary, resolved to probe the utilisation of the $200 million clean technology fund for solar energy in the North-East zone of the country.
Both resolutions of the House were passed, following the adoption of two motions promoted by Babangida Ibrahim (APC-Katsina) and Shehu Musa (APC-Bauchi).
In his submission on the abandoned federal projects, Ibrahim noted that the alarming infrastructure gap in the country over the past 17 years, was characterized by poor and dilapidated road network, epileptic power supply, a virtually moribund railway system, airports requiring rehabilitation and dilapidated structures in the education and health sectors.
He said:  "The House notes that trillions of Naira were committed over the years in a bid to provide critical infrastructure in areas such as agriculture, aviation, transportation, education, health, environment, security, science and technology, roads and power supply.
"The House further noted that implementation of Capital budgets annually has never, in the past 17 years, reached an average of 50%, thus resulting in proliferation of uncompleted projects all over the country."
"The House is aware that as at May 2011, there were over 11,886 ongoing projects that required over N10 trillion and more than 10 years to complete even if an average sum of N1 trillion is provided annually to fund the projects.
"The House is also aware that of the total commitment of ¦ 7.8trillion for the 11,886 ongoing projects, only ¦ 2.7 trillion was paid to contractors, implying an outstanding commitment of ¦ 5.1 trillion as at May 2011.''
To this end, the House mandated the joint Committee on Finance, and National Planning and Economic Development to investigate in order to ascertain the number and location of on-going and/or abandoned critical Federal Government capital projects across the country.
The joint committee is also expected to ascertain the amount committed, paid and outstanding to date on all on-going and/or abandoned capital projects and report back  within eight weeks  for further legislative action.
$200m Clean Technology Fund:
Also yesterday in his presentation on the $200 million Clean Technology Fund Meant for Solar Energy Development in the North-East zone, Musa noted that the funding initiative in Nigeria was intended to help overcome the financing and market barriers for low carbon investments and support the deployment and application of clean energy and energy efficiency solutions in various industries, homes and service centres.