The Police in Enugu have warned residents in the state and other parts of the country not to eat Suya or drink bottled or sachet water offered them by unknown persons as these could contain poison.
The police said such have become the nefarious tactics employed by car-snatchers and other hoodlums to defraud or steal valuable belongings from unsuspecting car owners or co-travelers.
In a statement issued to newsmen in Enugu on Saturday by the Police Public Relations Officer (PPRO), Mr Ebere Amaraizu, it said recent intelligence showed that some unscrupulous persons were using the new contrivance to steal people's property.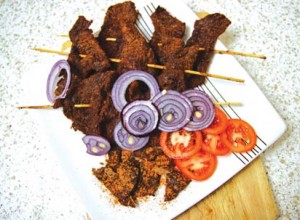 He said intelligence revealed that the swindlers usually offered passengers, tricycle and taxi-cab operators ''drugged or poisoned bottled or sachet water, fruit juice, soft drinks and suya.
''This usually makes their victims to feel weak and sleepy thereby giving way for the mischief-maker to steal the tricycle or taxi-cab as well as valuables of the targeted passenger(s) or co-traveller(s)
''Police operatives in partnership with sister security agencies and relevant stakeholders have been directed to fish out those in this unlawful habit with a view to bringing them to book'', he added.