RISING singer, Simisola Bolatito Ogunleye, also known as Simi, has refuted the notion that there was a love tango between herself, her lover, Adekunle Gold and perpetual collaborator, Falz.
In a recent interview with NotjustOK TV, Simi also spoke about the delay in releasing her debut album, confessing that she was scared as much as she was excited about the project.
She said, "I'm so excited and I am also a bit scared because I know a lot of work is going to go into it. I'm a perfectionist, my producer is a perfectionist so between us there probably is gonna be a lot of stress… I was  supposed to have dropped my album last year but it did not because we were going to drop the Chemistry EP (with Falz) plus it wasn't ready."
She disclosed that there was no date yet for the album release but assured that it would be worth the wait for her fans. Reacting to the so called love tango she was involved in, the singer said she was aware of such rumours but wasn't bothered about it because it wasn't true.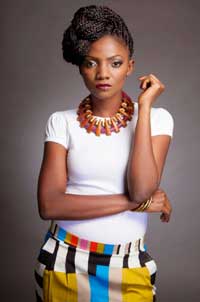 "I hear of this love tango between myself, Adekunle Gold and Falz all the time. I don't know why but there is no tango. I really prefer not to talk about my personal relationship in front of cameras. What I'm going to say is that I work with them and I enjoy working with them," she said.
The 'Smile For Me' singer added that female artistes are not on a lower level to their male counterparts as the society would like to believe.