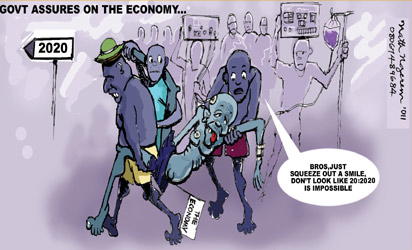 Nigeria's economy contracted for a fifth straight quarter, official figures showed Tuesday, as low oil production dented overall output.

Gross domestic product shrank by 0.5 percent in the first three months of 2017, an improvement from a 1.7 percent fall in the last quarter of 2016, said Nigeria's National Bureau of Statistics.
Despite an encouraging pick-up of momentum in the non-oil sector, the latest reading disappointed expectations of a modest recovery and an exit out of a debilitating recession.
"It's worse than what we'd expected," said John Ashbourne, Africa economist at London-based Capital Economics.
"But if you remove oil, non-oil GDP increased. Manufacturing picked up and construction picked up," Ashbourne said, "it's a pretty positive set of figures in the sense that the contraction is easing."
As a result of attacks on oil and gas infrastructure in the oil-producing swamplands, last year production fell to a low of 1.4 million barrels per day (bpd) and Nigeria's growth contracted by 1.5 percent.
"The numbers still show a contraction, although at least the hemorrhage has stopped," said Cheta Nwanze, research head at SBM Intelligence, a Lagos-based advisory firm, "I'm cautious because we are growing too slowly."
Growth is likely to pick up in the next quarter if there are no new attacks on oil and gas infrastructure.
Economists say a new government policy increasing the availability of foreign exchange is already yielding positive results.
"Given the weak base, double-digit oil sector growth is possible going forward, even given compliance with OPEC oil production cuts which may take effect following this week's meeting," said Razia Khan, Africa economist at Standard Chartered Bank.
"Even more encouraging is the likely improvement in non-oil sector growth momentum, with improved availability of foreign exchange," Khan said.
"The weakness of the first quarter is a concern, but the effects of these reforms will be seen further out."