By Theodore Opara
JEEP Wrangler fans may have something very special to cheer about soon. Information reaching Vanguard Motoring has it that Jeep is already testing a Pickup version of the legendary Wrangler which it plans to launch into the market very soon.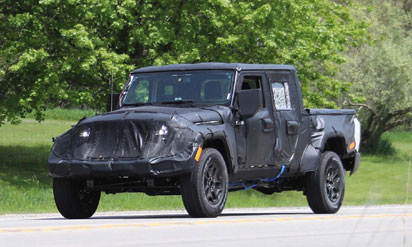 Snap shot of the Jeep Wrangler pickup looks very rugged like the old Land Rover Pickup. Spy photographers have captured the first public images of Fiat Chrysler's upcoming midsize pickup based on the Jeep Wrangler Unlimited. The photos indicate that the as-yet-unnamed pickup will get the Wrangler's design cues and off-road chops.
The pickup is projected to be at the U.S. dealerships in 2019. Production is scheduled for the current Jeep Wrangler line at FCA's Toledo, Ohio, assembly complex after the plant receives a new paint shop next year. The pickup will follow the redesigned Wrangler SUV, which FCA plans to begin producing in November in Toledo. Both will feature a new fuel-efficient eight-speed automatic transmission and improved aerodynamics.