By Ikechukwu Nnochiri
ABUJ—A traditional ruler in Delta State, Obi Paul Nzemeke, Okilie II, the Obi of Egbudu-Akah Kingdom, in Aniocha South Local Government Area, has dragged the Inspector General of Police and 15 others before a Federal High Court in Abuja over his alleged unlawful arrest.
The monarch, in his fundamental rights enforcement suit alongside three others, is asking the court to award N100 million damages against the IG, Deputy Inspector General of Police in charge of Area 10 Abuja and the Commissioner of Police, Federal Special Anti-Robbery Squad, SARS, Abuja.
About 13 others are respondents in the suit and they are Chiadika Felix,  Victor Okpuzor, Sunday Meninwa, Sylvester Enuechie, Charles OJianwuna,  Ezinwa Nwanbunwanne,  Joseph Obanyagbor, Felix Iwebenua, Richard Iwebenua and Emeke Osagie.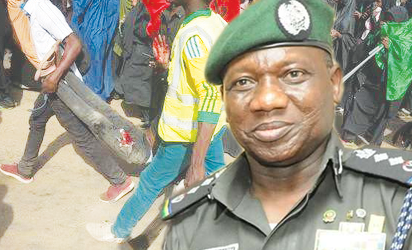 The monarch and other plaintiffs,  Augustine Chikezie, Dennis Onwuyali and Chuks Nwanbunwanne, are praying the court to restrain the respondents from further inviting, arresting, intimidating, harassing or unlawfully detaining them, their family members, staff, loyalists and supporters or whoever is acting for or through the applicants.
The applicants alleged that their unlawful arrest and detention on March 1, 2017, followed a malicious petition they said was written against them by the 4th, 5th and 6th respondents.
The monarch is praying the court for an order restraining the 4th to 16th respondents from further giving false report to the Police since the issue of ownership/management of Atochi Rubber Estate, a Delta State owned rubber plantation which cumulated into kingship tussle between him and another ruling family in Egbudu-Akah are now pending in suit number 0/35/016 and number 0/M/4/017 at the Delta State High Court sitting in Ogwashi Uku.
In an affidavit in support of the suit by one of the applicants, Onwuyali, he averred that he is the Chief Security Officer of Atochi Rubber Estate, Egbudu-Akah under the direct supervision of the second applicant (Augustine Chikezie).
He averred that Obiokolie II is the traditional ruler of Egbudu-Akah by virtue of being the eldest son of his late father, His Royal Majesty, OBi Agbogidi Olo-Omee, Alfred Okolie 1, who died on September 30, 2016 and that he (Obiokolie II) was coronated according to the native law and custom of Egbudu-Akah.
He averred that the 4th respondent (Prince Solomon Obiokolie) is the 7th but 3rd surviving son of the late king, adding that the said prince Obiokolie and others usurped the position of the 1st applicant as a factional traditional ruler of Egbudu-Akah.