…Allocate N5bn to make peace with colleagues
By Emman Ovuakporie
ABUJA—THE   Body of Principal Officers in the House of Representatives yesterday soft-pedalled by relinquishing N5 billion to their colleagues.
The amount is to be taken from the N20 billion statutory allocation for constituency intervention projects across Nigeria.
After the speaker, Yakubu Dogara, said the opening prayers at about 11.15am, he was approached by the Chairman House Committee on Rules and Business, Emmanuel Orker Jev.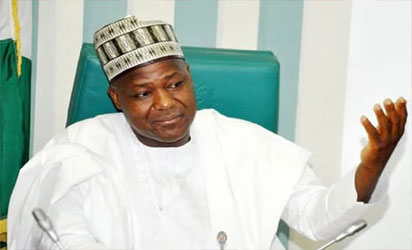 Jev whispered into his ears and the speaker immediately announced a 30-minute closed-door session.
In this new dispensation, each of the 350 members, excluding the 10 principal officers, is to receive additional N13 million for execution of constituency projects in the 2017 Appropriation year.
One of the lawmakers who spoke with our correspondent on condition of anonymity, explained that the gesture of the House leadership was applauded by majority of the members, while a handful from the disadvantaged constituencies demanded for more.
According to the lawmakers, with the new development, the least amount accrued to those from Lagos and Kano in the new fiscal year will be about N54 million.
Another lawmaker from the South East also confirmed to Vanguard:  "We, the ranking members, had insisted that the old sharing formula should remain but leadership on its own   decided to part with something which is a welcome development.
"Those fanning the embers of war are the new comers and we understand and they all jumped up jubilating after leadership announced the adjustment.''
Recall that the suspended former chairman, House Committee on Appropriation, Abdulmumin Jibrin, who opened a can of worm on the huge sum benefited by the principal officers, was suspended for 180 legislative days, following his indictment by the House Committee on Ethics and Privileges, chaired by Ossai Nicholas Ossai (PDP-Delta).
Some of the lawmakers who attended the closed door session which lasted about 24 minutes, chaired by Yakubu Dogara, applauded the decision of the principal officers.
It was also gathered that the issue bothering on the delay in the procurement and distribution of the 508 Peugeot cars was discussed.
According to the lawmakers, assurances were given by the leadership of the House to ensure timely distribution of the vehicles.