Abuja—A defence witness, Philip Akolo, orderly to former Gov. Jolly Nyame of Taraba State, told an FCT High Court, Gudu, yesterday, that he signed only allowances on behalf of the former governor while he was in office.
The witness spoke during the continuation of cross examination by the Economic and Financial Crimes Commission, EFCC, prosecutor, Mr Rotimi Jacobs, SAN.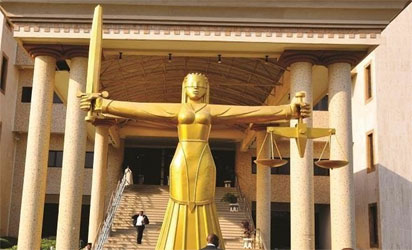 Akolo, who earlier testified on the last adjourned date of April 25, 2017, told the court that as an orderly, he was the closest to Nyame and was always with him.
He said apart from allowances, he never signed for any other money on behalf of the ex-governor.
He denied any knowledge on the purchase of equipment, grains, materials or anything for that matter throughout the eight years he was with Nyame.
He said he neither collected any money for the purchase of security equipment, nor was he privy to any approval made by Nyame for any purchase.
Akolo, who said the only time he was not with the ex-governor was when Nyame retired to bed at night, also denied knowing anything about disbursement of money.
"I don't know anything about the disbursement of any money for the purchase of anything," Akolo told the court.
The witness confirmed that in 2006, there was no month he did not travel with Nyame to Abuja, but that he never had anything to do with financial transactions.
He said he could remember 65 per cent of the happenings in Taraba government during Nyame's tenure from 1999 to 2007.
He insisted that he could not remember what happened on the specific dates of July 3, 2005, April 11, 2017 and April 12, 2007.
Rev. Jolly Nyame is facing trial on a 41-count charge bordering on misappropriation of state funds to the tune of N1.64 billion while in office.
The judge, Justice Adebukola Banjoko, adjourned the case until Tuesday, May 23 for continuation of defence.