By Ugochukwu Alaribe
ABA— Abia State Commissioner of Police, Mr. Leye Oyebade, has warned policemen serving in the state against using stop-and-search operations introduced by the command to mount checkpoints and abuse the rights of motorists.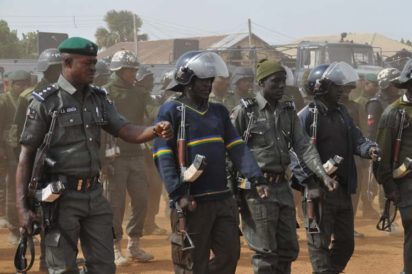 Oyebade who made the appeal during a tour of the Ogbor Hill, Ohuru Isimiri and Eastern Ngwa Police Divisions, urged policemen to be proactive and work with the fear of God, adding that the introduction of stop-and-search operation is not meant to intimidate and extort motorists.
He vowed that any policeman caught mounting checkpoints would face the wrath of the law.
The CP further appealed to residents to volunteer useful information about suspicious movements to the police, stressing that the era where people were afraid to release information for fear of betrayal, had gone.
He said, "People should not be afraid to release information to the Police. You can reach the Commissioner of Police, the Area Commander or the DPOs, they can never betrayal. When you withhold information, you are endangering the society. The state government has introduced whistle blowing policy; security should be everybody's business, people should make use of it to volunteer useful information about suspected movements.
"I have always given our dedicated numbers. I have my own emergency number, 07061866080, which the public can reach me through text messages only.
"Let me also warn our Policemen that the operational stop and search points in all Police Divisions are not checkpoints. Any Policemen caught mounting checkpoints or intimidating and extorting motorists would face the wrath of the law. Policemen should not abuse the rights of detainees; they must be given access to their families and lawyers."
He charged traditional rulers to encourage qualified people in their communities to join the Police, stressing that the Police job is meant for the intelligent and highly qualified persons who can fit into the demands of modern policing.