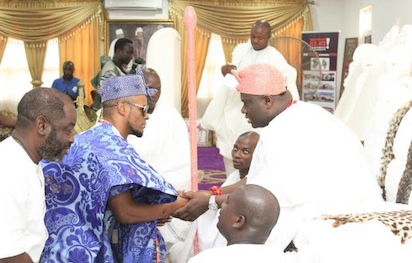 From left… Ambassador Rotimi Vaughan, Oloyotunji of Oyotunji, Oba Adefunmi II and Ooni of Ife, His Imperial Majesty, Ooni Adeyeye Enitan Ogunwusi Ojaja ll
Ooni of Ife, His Imperial Majesty Ooni Adeyeye Enitan Ogunwusi (Ojaja II) on Friday said that Yoruba are more than 500million in the world.
He made this known while receiving Oba Adefunmi Egunjobi Oloyotunji of oyotunji, Sheldon South Carolina, USA in his palace in Ile-Ife, Osun State.
"Yoruba constituted over 500 million people in the world, majority of this population migrated from Nigeria to other part of the world to domicile like Caribbean Island, North- America, Brazil, Argentina, Cuba, Haiti, Trinidad & Tobago, Mauritania, Ivory-Coast, Ghana among others especially during the atlantic slave trade, but yet they still find thier root with identification as YORUBA LINEAGE " says Ooni
He stressed further that Yoruba people are distinctive people whom are bound together by a common language with different dialect,they also share rich culture ,traditions and value extensively and globally yoruba religion and tradition was practiced which has brought Oba Oloyotunji back to his root and ancestral home , he offered prayers, royal blessing on Oba Adefunmi , his entourage and all in attendance.
Oba Adefunmi Egunjobi Adejuyigbe II, Oloyotunji of Oyotunji thanked Ooni and the people of Ile-Ife for the warm reception given to him and his entourage on royal home coming visit to african ancestral home.
"Am so delighted coming to my ancestral home and the source of yoruba origin in Ile-Ife ,to seek royal blessing from my ancestor and also to promote bilateral relations between Nigeria and United States especially South Carolina in the areas of trade and commerce, education, tourism, arts, culture and agriculture.
while speaking on the Oyotunji Cultural Fiesta 2017, which has been endorsed, accepted by Ooni of Ife as the Special Guest of Honour as scheduled in July/August 2017 -Oba Adefunmi expressed his delight as this is one of his dream coming through (promoting Yoruba culture all through the American soil)
Rotimi Vaughan Ambassador to the Crown and Kingdom of Oyotunji said the home coming of Oba Adefunmi Adejuyigbe Oloyotunji of Oyotunji African Village as historic-cultural event for the development of strategic promotions, Royal blessing, Cultural exchanges, relations ties between Ile-Ife (The Source)and Oyotunji African Village, Sheldon, USA.
Ambassador Vaughan further said: "As a direct descendant of Ex-slaves, history has revealed that slaves left the land with cries, bitterness, humiliation, and suffering, but we have come to Ile-Ife to appease to gods/ancestors and to seek royal blessing on our project "BACK TO MY ROOT NIGERIA" and assuring that there will be great radical transformation and prosperity in Oyotunji African Village and the entire Yoruba nation.
The project is a new dawn for the region especially in the areas of tourism, arts & culture, trade and commerce, agriculture, education, youth and social development, academic institutions alliances, advancing humanity, while combating modern slavery. The opportunity has come about as a result of the family ancestral link and bond between Sheldon South Carolina, USA and Nigeria.
Ambassador Vaughan presented the blue print " BACK TO MY ROOT NIGERIA Project titled "-OYOTUNJI DIASPORA HOME COMING INITIATIVE 2017" for endorsement , emphasis on the activities of NASO and Atlantic Bond Initiative (ATBONDI) which he initiated to promote african culture and heritage, tourism , education between Nigeria, Oyotunji village and the entire 23countries in North America.
Olaniyan Omo Oba Olasowo, a prince in Oyotunji African village praised Oonirisa in yoruba dialect, chanting and eulogising the monarch with song he composed. while a powerful cultural display was performed by different cultural groups and Ife tradition Drummers to entertain the audience.
In attendance: Chief Oluwambe Amodu,(Aare Apo of Oyotunji SC), Chief (Mrs) Oyefunke Ogunfuye, High Priest Ifabukumi Adewale ,Ifabunmi Adefunmi, Yeye Osun, Mr Mosobalaje Olusegun amongst others dignitaries