By Richard Akinnola
Alhaji Lawal kaita, a former civilian governor of Kaduna state was charged by the Federal military government before the Transition to Civil Rule Tribunal, headed by Justice Fred Anyaegbunam on December 5,1991.
The charge against him was that he was participating in politics, although disqualified from doing so. He had therefore breached section 1(4) of the participation in politics and elections Decree, an act punishable with five years imprisonment.
But Kaita thought everything a huge joke. He believed the government was merely clowning and he approached the whole proceedings as such.
He wondered what the whole fuss was all about, telling the Tribunal that he was in far away Jeddah when he heard about the arrests and detention of his co-accused and he being declared wanted.
When reminded that he had no lawyer and he was not himself a lawyer, Kaita replied: "I can take care of myself."
On the charge against him, Kaita said it was vague.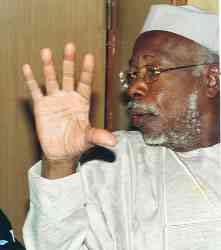 "The charge is vague. They need to amend it. I am sure your lordship is convinced that the Government cannot prove it. The government is confused. The charge said l sponsored a political party. How can I sponsor a whole party that has already been sponsored and financed by the government?
"Government is bent on punishing me. It would have been reasonable if the charge is that I sponsored a candidate instead of a political party. Am I Mr. Politics?"
Kaita asked Justice Anyaegbunam to advice the prosecution to therefore amend the charge to that of sponsoring a candidate and not a whole party.
The prosecutor, Mr. kolapo Adebaale urged the Tribunal to adjourn the case until January 16, 1992, applying that Kaita be remanded in custody.
Justice Anyaegbunam asked the accused if he understood the prosecution's request. Smiling, Kaita replied: "I have heard what he said. It's routine; others arrested before me are in detention, I will not be an exception to the rule."
But the judge persisted, asking him if he would not ask for bail, Kaita replied: "I expect that bail will not be granted to me. Nobody has been given bail. I will be expecting too much if I think I will be granted bail."
The prosecutor went to argue that bail should not be granted the former governor because he broke a pledge he made to the police on October 2, 1991 that he would not be involved in politics.
Kaita, in an interesting riposte, replied "My Lord, what I told the police that day was that I would not do politics with anybody, but if anyone comes to my house whether devil or saint, I would talk with him. If you see me going to anybody's home on the street campaigning, holding rallies, arrest me, but if anyone comes to my house, I will talk, I have not broken this " he concluded. "They are confused. They don't know the difference between being a politician and participating in politics."
Kaita asked for a one week adjournment to enable him arrange for proper defence and witnesses but the prosecutor wanted a longer adjornment, saying that the week after would not be convenient. To this, Kaita retorted."Somebody else can come for you. You are not the only counsel in the ministry of justice."Some days later, the government repealed the decree that barred Kaita and others from participating in politics and Kaita walked out of detention a free man.