THE Commonwealth Games Queens Baton Relay which breezed into Nigeria on April 1 will have a busy day today as the CGA officials present the Baton to the Executive Governor of Lagos State, Akinwunmi Ambode in his office.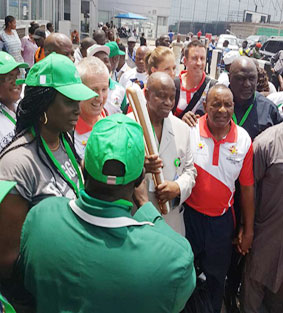 The Queens Baton Relay is the main curtain raiser for the Commonwealth Games in Gold Coast, Australia next year.  The Queens Baton to be led by President of CGA in Nigeria, Engr Habu Gumel and Sports Minister, Barrister Solomon Dalung and the accompanying officials Gideon Sam, Adam Best, Patricia Quayle, Jeremy Sutton-Hibbert and Colin Briggs will make speeches before relays by dignitaries and athletes within Government House. Thereafter, the Baton departs Alausa for the National Stadium where children with disabilities(Special School) welcome the Baton with cultural displays and choreography.
There will be speeches by CGA officials, Australia High Commission and QBR Team.
Commonwealth medalists, Olympians and Paralympians will have their turn by carrying the Baton from the Stadium through Ojuelegba, Surulere and back to the National Stadium.
Special children will continue sports activities at the stadium after the Relay.
The Queens Baton will depart the stadium to Hearts of Gold Children's Hospice in Surulere.
Main Organising Committee Chairman, Mrs Hauwa Kulu-Akinyemi has urged Lagosians to come out enmasse to cheer the Queens Baton Relay at the National Stadium
The Queen's Baton Relay is the traditional curtain raiser to the Commonwealth Games and has been an inclusion in the Games program since the Cardiff 1958 Commonwealth Games in Wales.