THE nation's indigenous companies may meet their output target of 500,000 barrels per day, bpd, up from the current level of about 300,000 bpd by 2018, as MD Western concludes plans to raise output by 253 per cent.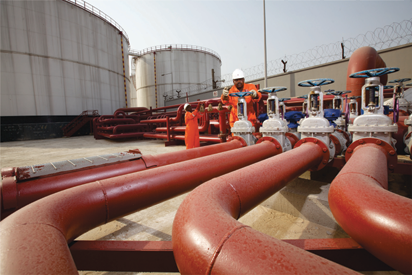 The company which currently produces 17,000 bpd, including condensate, plans to increase output to 60,000 bpd.
Located on Oil Mining Lease, OML 34 in the Western Niger Delta, the company produces from fields such as Utorogu, Ughelli East, and Ughelli West, with total flow-station capacity of 90 Mbpd.
According to the company, the block has two gas plants; one in Utorogu field with 360 MMscfd and the other in Ughelli East field with 90 MMscfd capacity.
It pointed out that the combined fields currently produce an average of about 390 MMscfd of gas, and 17,000 bpd of oil and condensate.
"OML 34 is of utmost strategic importance to Nigeria and the West African sub-region, as a major supplier of gas for electricity generation in Nigeria. It also feeds gas through the West African Gas Pipeline (WAGP) to neighboring countries."
"Gas from OML-34 is produced from two of its fields, the Utorogu field and the Ughelli East field. Non associated gas (NAG) production from the Utorogu field started in 1989. A total of 11 NAG wells have been drilled to date."
"The gas processing plant in Utorogu has an installed capacity of 360MMscf/d. Gas produced from the field goes into the Escravos-Lagos Pipeline (ELPS) owned and managed by the Nigerian Gas Company (NGC) from where it is distributed to our gas customers," it added.
The Managing Director of Energia Limited, Mr. Felix Amieyeofori had indicated in an exclusive interview that Energia started as a consortium of leading Nigerian service and technology providers who came together with little cash but with great personnel, equipment and services to work, thus culminating to the production of first oil.
"Energia currently has the capacity to produce 7, 000 bpd but is looking forward to producing 15, 000 bpd in near future, hopefully as we resume full production and injection through Forcados terminal. Generally, we would want to participate in bidding for new oil blocks once the bid is out. We would want to grow," he had stated.
The Managing Director of the Niger Delta Petroleum Company Plc, Dr. Layi Fatona, had also disclosed that the company is currently producing 7, 000 bpd.
He had said that the company has done more, considering that it produces nearly 45mm Scf/d gas from the Ogbele Field, and about 10,000 bpd and 260 mm Scf/d of gas from the OML-34 JV.
Fatona had indicated that in the short term, the company plans to remain relevant in a nimble way, within the Nigerian exploration and production patch.
He had disclosed that as for the medium term, the company will like to become an attractive investment vehicle, which is able to grow with steady injection of new capital periodically for each of outlined phases of growth.
Mr. Austin Avuru, Managing Director of Seplat Petroleum Development Company indicated that the combined production if indigenous companies would close the huge gap between them and their foreign counterparts.