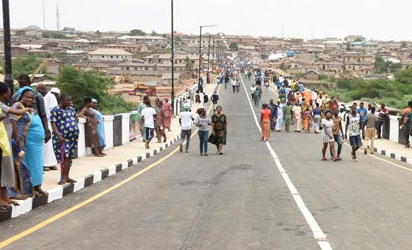 The newly built and commissioned Aboru-Abesan Link Bridge in Alimosho Local Government, Lagos, on Wednesday, March 29, 2017.
THE Federal Ministry of Power, Works and Housing (FMPWH) recently placed advertisements in various newspapers indicating its intention to recover open spaces on Federal roads, setbacks and spaces under bridges, within the Right of Way of Bridges in Lagos.
The original order was issued by the FMPWH on the 24th  November  2014 to occupants of the affected spaces in Lagos Island and Mainland, but it was obviously not enforced. Two years and four months later, the Ministry recently issued a fourteen-day quit notice with effect from April 2017, a period which is almost up.
Under-the-bridge squatters have become a major urban menace in recent decades because these mainly Federal structures are among the first places migrants to big cities like Lagos drift to. In Lagos, hundreds of thousands of people have settled under the bridges and some commercial activities such as car dealerships have "colonised" these Federal properties. They have resisted all attempts to move them out.
The issue is complicated by the fact that the Federal Government had, for years, abandoned these bridges. They fail to effect regular maintenance, and some officials have even illegally allocated spaces and collect tolls from the squatters. After inhabiting these places for decades, some of the squatters have come to see them as their permanent homes with nowhere else to go.
There is no doubt that the FMPWH has the right to ask the illegal squatters to vacate its property because many of them have become abodes for criminals and terrorists. They have become eyesores and security threats. However, is the FMPWH now ready to act, or is this just another of the empty quit notices which every regime serves the squatters without acting on it?
A unilateral two-week quit notice will not do. The FMPWH must first of all tackle the social problems associated with the entrenched squatters. The quit message must be effectively driven home to them in a manner that no one will claim to have been taken unawares. Efforts must be made, perhaps in tandem with the Lagos State Government, to offer them alternative abodes. They are citizens, and should not just be driven out without providing them  any form of succour.
Most importantly, the Federal Government must design an action plan to beautify and regularly maintain these bridges. These places must be constantly monitored to ensure that squatters are allowed to return, and no private property of any sort (such as shanties, trailers and tankers) are allowed to stand on them.
We fully support the removal of squatters from our bridges and  roads, but they must henceforth be properly maintained and the squatters assisted in relocating to alternative, habitable abodes.