…choosing the couch that's perfect for your living room
THE central spot in each household is the living room because that is where families spend their time while at home and receive visitors. Visitors know your stuff or taste through what they see in your living room. It is not all about how expensive your chairs or sofas are but how they fit the space and match the interior. That is why many go all the way to look for both comfortable and stylish pieces that will fit their interior while some will just put anything so far as people can sit on it.
Whether you choose fabric or leather chair for your living room, what should be the number one consideration is comfort. There are many factors that determine the comfort of furniture. The type of textile and the support system, such as cushions and frames, play a huge role. Here in Africa, especially our nation, Nigeria, our weather is more comfortable with fabric pieces than their leather counterparts. Like your car seat, leather absorbs heat faster than fabric. The same is true with leather furniture; it will feel warm after sitting on it for a while and you see yourself sweating but the leather furniture is firmer than the fabric counterpart.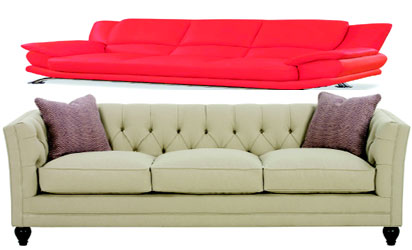 On durability, while making your choice, look out for the quality of the material because fabrics have different lifespans before wearing and tearing. Of course, better materials last longer. Cleaning products for fabric are cheap. Furthermore, most of the fabric sofas have stain – resistant finishing, making their cleaning much easier. You can take care of spills with a steam cleaner or sponge and soap. Mind that if the fabric is not a premium quality, you might have hard times removing the stains. In this case, leather might be the alternative.
On the other hand, leather sofas are more vulnerable to scratches and humidity than the fabric pieces. It is worth mentioning that leather is very easy to clean. It requires light dusting and vacuuming. Of course the cleaning of both materials depends mainly on your lifestyle.
Fabrics provide unlimited tones and pattern choices that will fit any decor. The downside is that colours tend to fade very quickly. This can be due to the excessive use of the sofa or simply because it gets old. On the contrary, leather's colour palette is more lasting.
On appearance, a leather sofa, with its sleek and classic appearance, adds certain elegance to the room. You can hardly achieve the same effect with fabrics. Fabric sofas are available in many hues and designs, and tend to add to a contemporary vibe to a home.
On budget, the cost of both types of sofa is determined by the quality. Undoubtedly, good fabrics and framing are expensive. At the end, however, the same leather piece will cost you the same if not more as buying a high quality fabric sofa. The best strategy is to compare prices and features such as ease of cleaning, comfort and durability. When making your decisions, take into account your own preferences and the weather especially when you don't have air conditioner in your house.
So which one should you pick?
Both materials have their benefits and disadvantages. At the end of the day, you need to decide what you value most – durability or comfort.