Arsene Wenger remains unrepentant in the face of growing Arsenal fan unrest, and insists he's "not scared" of the ill-feeling towards him from an increasing section of the club's support.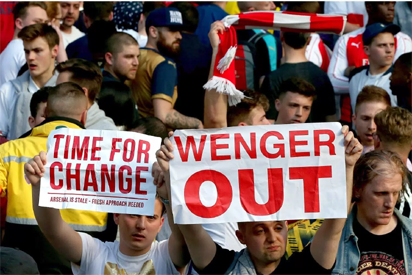 Protests before and after matches have become common place in recent months, but yesterday morning saw the barely credible sight of a small group of fans outside the club's London Colney training base.
The Gunners chief is facing increasing fan pressure after a disappointing recent spell, which has seen the side fall out of the top four and 18 points behind league leaders Chelsea.
Anti-Wenger banners have also been pictured as far afield as Florida and Australia as fans call for change at the top.
The Frenchman is into his 21st year at the club, and says a decision over his future will be made soon. It is understood that he is likely to sign a new two-year deal to remain at the club.
And the veteran boss says he is just continuing to do his job, the best way he knows how.
"I have answered that question many times," he said when asked about his future once more on Tuesday. "You ask again. Don't worry, you will get that answer soon."
"Honestly, I am professional and when you are professional you perform in ideal conditions and non-ideal conditions.
"I love to win football games. I just focus on that. I work for my club with honesty and integrity.
"I am not scared. I accept the judgement of people and focus on the game. That's it.
"Everybody has an opinion today. What is important is guys who can influence the results stick together.
"The board is responsible for the decisions which engage the future."