By Benjamin Njoku, Ebun Sessou, Juliet Ebirim
One of the jokes that went round in the social media last week could pass off as humour at the expense of the womenfolk. It says "Gentlemen, if you have N5,000 in the house and your wife has N55,000, the total amount of money in that house is N5,000. Are we together?" Of course, the men are together on this.
They believe the women will never disclose the actual amount of money they have to their husbands. But can we say women are also together on this issue? Interestingly, many women are in agreement with the men. The wife believes the husband is the head of the family and it is his responsibility to provide everything that will be needed in the house.
After all when she married him, she dropped her maiden name and adopted his name while all their children bear his name, he should therefore be ready to shoulder all the burden. There may be few exceptions but most housewives don't like their husbands to know how much money they have.
Although, it is believed that about 50 per cent of all the spouses hide money from each other, women indeed, are accused of being the greatest culprits in this regard. In fact, one in every five Nigerian women is said to be guilty of keeping many secrets when it comes to the issue of money.
While this has become a major factor undermining the progress of the home front, many have argued that some women today have their reasons for resenting wholesome financial contributions to family.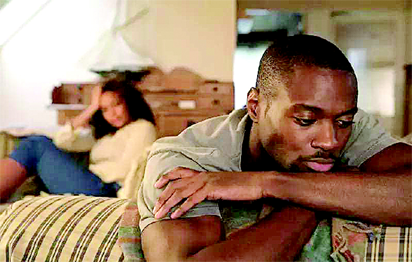 The question then is, what would make a wife conceal so much from her husband especially when it comes to financial contributions to family affairs? Take this: A woman has, for example, N100,000 and all the husband has is N50,000 and sorts out a N40,000 family responsibility. Then another responsibility of N10,000 arises.
The woman would keep her money in tact and would want the husband to also fund the N10,000 responsibility and go empty handed. These things happen in our homes all the time. Why are women this way? Is it an act of wickedness, selfishness or greediness?
According to those who spoke to Saturday Vanguard on the matter, some women feel reluctant to ask their husbands for money for all the things they want for themselves. They, therefore keep their money and use it for their own needs. To these, it is simply the man's place to provide for the family. They hardly part with their money for any family matter that does not concern them. Other women also, are said to resent their husbands' assumed right to decide how much they should be spending on anything.
The reasons range from behavioral attitudes to social factors and even fears of the unknown.
"Hiding money helps a woman get around some problems like supporting her parents and siblings financially," according to Chuks Nwanne, a journalist. But for Femi Salawu, Media Communication Practitioner, a woman who hides her money from her husband shows that she has trust issues. "Although I don't have evidence for it but I consider it to be common place that majority of women who hide their money from their husbands do so in retaliation to similar behaviour from their husbands, not necessarily because they are bad. Having said that, I don't think it is a good attitude in a home.
Trust is the foundation of peaceful home and how couples handle money will reveal their faith in each other.
Patriarchy and religious mindset
Speaking in the same vein, Tope Ajayi, PR practitioner, said, it is not right for a woman to hide her money from her husband. According to her,"many women do that. This is as a result of the thinking that a woman's money belongs to her and the husband's money belongs to everybody in a family.
Patriarchy and conventional as well as religious injunctions say a man should provide for his household and if you are a Christian, the Bible says a man who can not provide for his household is worse than an infidel. With such mindset, a woman will think the husband has no business with her money. But I don't think women should hide money from their husbands. Both husband and wife should be transparent and accountable in money matters.
In the modern day that we are and with the economic situation of the world today, especially in Nigeria, the job of providing for the family can't be a man's job alone. I am a traditional man who believes a man must provide for his family at all times and I don't expect a man to be asking his wife about her money. At the same time, a responsible woman should not hide money from her husband.
Being open with your husband on issues of money does not mean the man will collect money from his wife. Some men will even add to such money, like I used to do for my wife. When a man has some challenges, the wife, if she has money, could bail out and support the husband,"Ajayi added.
According to David, a businessman, "Although I don't look into my wife's account I know I don't need to ask if the need arises, she would support without asking."
However, providing a voice for womenfolk, Olufunmi Lateef Adeyeye, wondered why any man would want to know about his wife's money. She queried, "Is it your money? Your money is for the family while her money is hers alone except she decides to make it available to you when necessary and if she's willing."
Some women however explained why they will never trust their husbands as to disclose their personal money.
Men can't be trusted
A woman, 56 year-old Mrs Thompson, who lives in Ebute metta area of Lagos told Saturday Vanguard how she acquired some landed properties and built her houses without the knowledge of her husband. The businesswoman explained that the husband used to take advantage of her to extort her. She said, "I come from a wealthy family, my parents were business people and they engaged us in their businesses.
I later started doing my own business. When I got married, my husband told me that he was also into business and that we should jointly raise money and invest it. I contributed 85 percent of the investment. When the business matured, he sidelined me and brought in another woman who he claimed had been helping him over the years even before he knew me. It was so painful to me, I was mad and was frustrated.
Unfortunately for him, he never knew I was also running my personal business alongside. At that time, I had built some houses with my father's name. When he knew about this, he was very mad. He had thought I invested all that I had in his business. Since the incident, I have learnt not to trust any man or help anyone or better still, not to disclose my asset to anyone except my parents.
Another woman, Loveth, who lives in Jakande area of Lagos said, "my boyfriend connived with his friends and duped my sister and her husband and even my parents. He told us he was running some businesses and needed N1.2m to execute a project. He showed us all the documents of the business.
One month after, he came and asked for another help. When he told me some of the challenges he was facing, I was touched and I took him to my sister who then introduced him to her husband and he was given N1.5m. Few weeks later, he told me of his plan to be importing goods and that I should give him N2m which I borrowed and gave it to him. I never knew he was lying, that he never had anything but was just a fraudster.
When I told him I was pregnant, he took to his heels and never came back. I called his phone but he did not answer me. When I was delivered of the baby, I called his phone, yet there was no response and I was perplexed. Six months later, he showed up and said, he would take the baby on the condition that I would give him N3m or else, no deal. It was at that point I realised that he was a fraudster. Since then, I have decided not to help any man regardless of what the person is going through.
A lady, Janet Usman related how she was determined to make her husband discharge his responsibilities in response to another woman who said she would not be a liability on any man.
According to Janet, "experience and disappointment have taught me to treat man as they are. I have taken the decision that my husband must buy everything for me including my undies. If I want to make my hair, he has to pay for it no matter what happens, it is his responsibility. I have suffered in the hands of men, I have been molested severally and my mind is made up. Men cheated me, took advantage of my weakness, extorted money from me and this is my time to take my pound of flesh", she said
Man's recklessness and carelessness
A hairdresser, Mrs Isa who lives in Ibeju-Lekki area of Lagos told Saturday Vanguard how she had become a breadwinner of the family and the sole financier of the family as her husband has abandoned his responsibilities. She said, "I am the one taking care of my children and also I pay their tuition fees.
My husband no longer cares about the welfare of the children because I decided to support him financially. Last year, I spent more than five hundred thousand naira to take care of the home. He does not care about us because I have been supporting him.
During the festive period, I bought Christmas clothes and shoes, he also asked me to pay for chicken he bought. He has transferred his responsibilities to me completely and I do not know why. Most times, I buy foodstuffs without his contribution and that has been going on for years now. I felt bad but there was nothing I could do about it. I only enjoyed him when we were newly married.
Two years into the marriage, my husband changed to a different man. As much as I would want to support him financially, he hurts me because of his attitude", she said. Asked if the husband does not have work, she said, "he is an Engineer and the work is lucrative. My husband prefers to take care of his girlfriends instead of taking care of the home. He even told me that I have an option whether to still be his wife or divorce him.
Right now, I take care of my children and also make sure that he eats as well. He asks me for money at will and I do not have any choice than to give him the money", she said.
Also, a business woman, Mrs Igbayi told Saturday Vanguard how her husband had transferred his responsibilities to her. She said, "my husband has turned me to the breadwinner of the family. He does not take care of me and his children and only gives us 10,000 per month.
He does not care about the upkeep of the children and I do not know what to do. Since the change in his attitude, I decided to make a living for myself and my children. I went in search of a job and got one at a Bakery in Ojuelegba as a Baker."
Emotional comfort and sense of security
Women tend to keep money from their husbands for various reasons. For some, it's a golden rule to always have some money hidden somewhere, in case the relationship does not work. This gives women a sense of security— something to fall back on.
However, if a husband finds out about those secret funds, he may think she's expecting the marriage to fail. This may bring about a sense of betrayal. The husband may feel that his wife could be hiding bigger secrets. But truly, some women keep money away just in case the marriage fails.
There's also the fear of death. Many widows have suffer in the hands of their in-laws. Women are stripped of all their rights and dispossessed of belongings of their husbands and are left with nothing when their husbands pass on. Some of them therefore keep tight their money for any eventuality.
While some people believe that having a stash of money hidden away is a sign of a failing relationship or shows lack of trust, some women have a need or desire to have a secret stash of money tucked away for a rainy day or to serve as an emergency fund.
It is not even a question of hiding money in many cases but just not wanting to spend it when the man is there. They keep their money and feel more sense of security when their men are doing all the spending. Some feel that the money is just their for them to spend.
Many naturally don't want spending their money when the man of the house is there. There are some who feel that the more their husbands have the more they can spend on their dates and therefore will never contribute to the upkeep of the house. Their husbands having extra money could increase their appetite for romance outside the matrimonial homes or indulgence in avoidable socials. And "curbing his excesses" may therefore help, they think.
But some women complain that their husbands do not give them money to buy clothes, cosmetics, or to make their hair, so these women are likely to tuck away some money for these purposes.
To check husband's frivolity
Nevertheless, some women are also naturally wicked. They have the mindset that the man must not go outside what they want. Therefore, she drains her husband financially to ensure that he doesn't have money to do other things apart from what she wants in the house.
These kind of women are not supportive, they believe that once the man has enough money to spare, he might probably want to start another family or spend frivolously on other women.
Also, some women choose to spend their money on their own family (parents and siblings), instead of their immediate family (husband and children). They always justify this by saying the kids bear the man's name, therefore the man (husband) should be the sole provider for the family.
However, some experts also recommend that women should routinely divert small sums from paychecks, bonuses, reimbursement accounts, household allowances or even s pare change in order to build their own personal balance.
Holding on to certain secrets can impact negatively on the trust and support system of the marriage institution. Money could be a primary concern in a marriage, it is therefore best to weigh the possible outcomes before withholding funds.
Subscribe for latest Videos