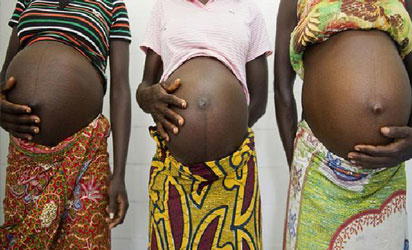 The Partnership for Advocacy in Child and Family Health (PACFaH) has urged Community Pharmacists and Patent Proprietary Medicine Vendors (PPMVs) to tackle the country's maternal mortality rate.
Mr Remi Adeseun, the Programme Director, Strategy of the Pharmaceutical Society of Nigeria (PSN)-PACFaH, made the call during an advocacy visit to the Registrar, Pharmacists Council of Nigeria (PCN) on Thursday in Abuja.
He regretted that Nigeria contributed 15 per cent of global maternal deaths with about 111 women and girls dying daily due to preventable pregnancies and child birth related complications.
Adeseun attributed what he described as "unacceptable and preventable maternal mortality rate'' to high unintended pregnancies, socio-economic factors and low use of modern contraceptives.
According to him, this rate can be drastically reduced through increased access and uptake of modern Family Planning commodities and services.
Adeseun noted that the private sector was servicing 60 per cent of Nigerians demanding FP commodities.
He explained that 38 per cent of FP users patronise the PPMVs while 10 per cent patronise community pharmacists which included doctors and nurses.
"Giving the distribution above, there is urgent need to support CPs and PPMVs to provide more primary health care services especially family planning to approximately 50 per cent of the population that patronised them.
"Solution to ending maternal mortality rate is to utilise the channel that the people are already going for other things which is CPs and PPMVs `One Stop Shop' for Primary Health Care need,'' he said.
The programme director underscored the need to ensure that people managing those centres were trained to provide FP services and others.
"There is need for the relevant government MDAs to scale up access to FP commodities and services through CPs and PPMVs.
"With increased access, the unacceptable maternal mortality rate of 576 per 100,000 live births, 111 women and girls deaths daily, the double digit FP unmet needs of 16 per cent will improve,'' he said.
He said that it would also improve low contraceptive prevalence rate of 15 per cent as well as infant and child mortality figures.
"Empowering them is central to the attainment of increase uptake of family planning commodities and services.
"It will also ensure attainment of Universal Health Coverage (UHC) which is right to health and fundamental human rights as well as improved infant and child survival, growth and economic empowerment of women, among others.
"400,000 under five years children death every year can be prevented if key private healthcare providers which are CPs and PPMVs roles in providing family planning and other primary healthcare services is expanded.''
Adeseun said the purpose of the advocacy was to request for the council's approval and nominate staff that would undergo refresher capacity building on FP and other primary health care services.
Also to give approval for the trained staff to conduct step down capacity building on FP and other primary health care services on selected CPs and PPMVs.
Responding, the PCN Registrar, Mr Elijah Mohammed, assured them of the council's collaboration.
Mohammed said such collaboration should include deployment of more staff to those areas within the shortest possible time.
According to him, such measures will go a long way in assisting grassroots practitioners to address some of the challenges they might encounter in the course of carrying out their duties.