The Partnership for Advocacy in Child and Family Health (PACFaH), on Wednesday, said an estimated 63 million Nigerians lack potable water.
Mr Ayuba Ibrahim, the Programme Director (Operations), Pharmaceutical Society of Nigeria (PSN)-PACFaH, gave the figure at a news conference in Abuja to commemorate the World Water Day, marked annually on March 22.
Ibrahim said this year's theme for the celebration was "Why Waste Water? Clean Water Prevents Diarrhea and Saves Lives'', noting that the observance day was officially designated by the UN General Assembly in 1993.
He explained that the day was set aside to intimate governments at all levels of the number of people, families most especially the vulnerable in the society that die daily as a result of preventable water-borne diseases.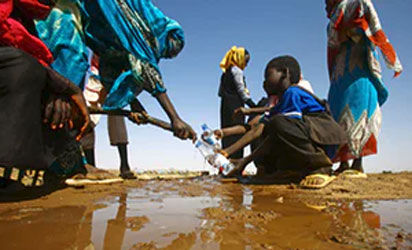 The director, who attributed the figure to WHO and the UN Children's Fund (UNICEF) estimate, noted that the figure also ranked Nigeria as number three after India and China among countries whose major population lacked access to potable water.
He explained that according to the 2013 Nigeria Demographic and Health Survey (NDHS),
over 39 per cent of households in the country lack access to improved water sources, saying
such household record more incidences of diarrhea than others.
Ibrahim said the NDHS report revealed that 97,000 children die yearly from diseases due to unsafe water and poor sanitation, saying these were contributing factors to the rate of diarrhea and childhood-death in the country.
He said diarrhea was often caused by unclean water and poor hygiene and remained one of the biggest killers of children under five years.
He added that achieving universal access to safe water and sanitation would save 2.5 million lives annually and reduce childhood morbidity and mortality from diarrhea by 35 per cent.
The director urged government and key stakeholders to prioritise access to potable water and
increase proven medications and services for the treatment of diarrhea in the country.
According to him, childhood diarrhea can be effectively addressed if government and
partners can scale-up access to safe water in most vulnerable communities.
He identified other measures to address the burden to include increased sensitisation by government on the dangers of unclean water to health and wellbeing of children and the family.
Others are increased availability of childhood diarrhea treatment drugs like the Zinc-Low Osmolarity Oral Rehydration Salt across all levels of care.
He stressed the need for advocacy targeted at improving healthcare seeking behaviour among parents and caregivers and appropriate referral to health facilities.
The director said "globally, an estimated 2,000 children under the age of five die every day
from diarrhea and out of the figure, 1,800 are linked to Water, Sanitation and Hygiene (WASH).
He added that "unsafe water, inadequate sanitation and the lack of hygiene affect the health, safety and quality of life of children.
"Potable water is a fundamental right of the child, safe water prevents diarrhea and saves lives. By closing immunisation gap, the child's immunity will be strong enough to fight water-borne diseases.
"Malnourished children cannot fight off water borne diseases such as diarrhea; they are even more susceptible to episodes of the disease. Scaling up nutrition is a sure way to win the fight against childhood diarrhea,'' Ibrahim said.
Other PACFaH CSOs at the news conference were Hajiya Farida Yusuf, the Programme Director of Federation of Muslim Women Association of Nigeria (FOMWAN), Mrs Chinwe Onuwonu, the National Coordinator, Association for the Advancement of Family Planning (AAFP).
Others were Dr Aminu Garba, the Programme Director, Community Health Research (CHR), Mrs Beatrice Eluaka, the Project Director, Civil Society Scaling Up Nutrition in Nigeria (CS-SUNN).
The International World Water Day is held annually on March 22, as a means of focusing attention on the importance of fresh water and advocating for sustainable management of fresh water resources.
It is an international day to celebrate fresh water, recommended at the 1992 UN
Conference on Environment and Development (UNCED) in Rio de Janeiro.
The UN General Assembly responded by designating March 22, 1993 as the first World Water Day.
Consequently, the UN General Assembly adopted resolution A/RES/47/193 of Dec. 22, 1992, declaring March 22 of each year as World Day for Water, starting in 1993, in conformity with the recommendations of the UN Conference on Environment and Development (UNCED), contained in Chapter 18 (Fresh Water Resources) of Agenda 21.