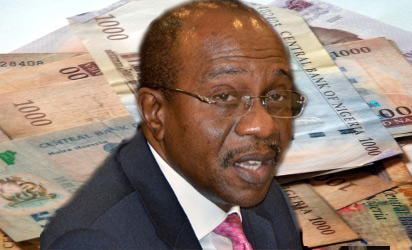 Governor, Central Bank of Nigeria (CBN), Mr Godwin Emefiele
By Emma Ujah, Abuja Bureau Chief and Babajide Komolafe
The Central Bank of Nigeria (CBN) will this weekend, again, pump more dollars into the foreign exchange market in continuation of its strategy to further strengthen the value of the Naira.
A source in the apex  bank, said that the CBN has planned the release of an additional $350 million bringing the total to $570 million in this week alone to further crash the value of the Dollar.
Already this has generated panic among currency traders who are yet to recover from the losses some of them have suffered in the last two weeks owing to sharp and sudden appreciation of the Naira.
Confirming the development, the Acting Director, Corporate communications, Isaac Okorafor, told our correspondent that, with improving reserve levels, the Bank was determined to continuously make forex available to all genuine customers through their banks.
The nation's foreign reserve hit about $29 billion as at Tuesday, last week, a position that has given comfort to the CBN Governor, Mr. Godwin Emefiele, and his team to massively intervene in the forex market.
With the current position, those hoarding the hard currencies would have to quickly off-load to reduce their losses.
Informed sources speak of the likelihood of a liquidity glut as banks are beginning to send out salespeople to scout for customers to buy the dollar in an effort to avoid losses arising from the expected further appreciation of the naira.
It will be recalled that since last Tuesday the CBN has so far supplied a total of $570 million to the market made up of $80 million for Personal Travel Allowance (PTA), Medicals and school fees, $100 million in wholesale forwards, an additional  $350 million planned for injection on Friday or Saturday.