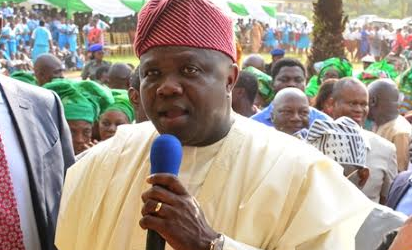 Gov. Akinwunmi Ambode of Lagos state
By Abdulwahab Abdulah & Jane Echewedo
Lagos State Governor, Mr. Akinwunmi Ambode has urged the three newly appointed state high court justices to maintain a high standard of professionalism,  competence and integrity to enable them dispense justice without fear or favour.
The governor gave the charge moments after the Judges were inaugurated at the Banquet hall of the governor's office, Alausa, Ikeja yesterday.
The new judges are; former Director of the State's Directorate of Public Prosecutions, DPP, Idowu Alakija; former Chief Registrar, High Court of Lagos State, Olugbemiga Ogundare and a former Deputy Registrar of the Court, Serifat Solebo.
The governor who said the state judiciary is the most vibrant in the country, added that its also busier than any jurisdiction and state in the country.
According to him, the state judicuary had established a reputation for itself as a trail blazer in the entire federation with intellectual judicial pronouncements that have stood the test of time at appellate courts, hence the new judges must also contribute positively to the advancement of administration of justice.
He therefore urged the newly appointed judges not to be left behind in the development and promotion if good culture and standard for which the state is known.
In her speech, the Chief Judge of Lagos State, Justice Oluwafunmilayo Atilade congratulated the newly appointed judges noting that they were selected on merit by the National Judicial Council (NJC).
Responding on behalf of the appointees, Justice Alakija thanked Governor Ambode for their appointments, and pledged that they would carry out their duties diligently and abide by the code of conduct.
The Governor added that the niche which the State Judiciary had carved for itself over the years was achieved through various reforms that were initiated and faithfully implemented by succeeding leaderships of the State Judiciary in partnership with Executive and Legislature.
He pledged that his administration would initiate key reforms in the sector especially in areas of infrastructure, technology, people and processes and improved welfare for the judiciary, which would be based on the recommendations of the recently held Justice Summit by the State's Ministry of Justice.