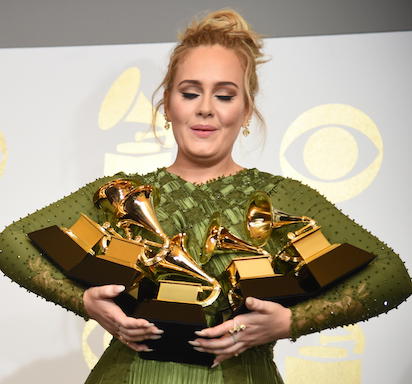 Adele poses in the press room with her trophies, including the top two Grammys of Album and Record of the Year for her blockbuster hit "Hello" and the album "25", during the 59th Annual Grammy music Awards on February 12, 2017, in Los Angeles, California. / AFP PHOTO
Adele, Beyonce, Chance the Rapper and the late David Bowie were honored Sunday at the 59th Grammy Awards, the biggest night for the music industry.
Here are some memorable quotes from the gala, hosted by late night funnyman James Corden:
– Big love for Beyonce –
"My idol is Queen Bey, and I adore you. You move my soul every single day. And you have done for nearly 17 years. I adore you."
— English singer Adele, accepting the Record of the Year award for "Hello," which she won over Beyonce and her "Formation"
– Hello from the other side… motherhood –
"Five years ago, when I was last here, I was pregnant, and I didn't know. (…) And in my pregnancy, becoming a mother, I lost a lot of myself. I struggled and I still do struggle being a mom. It's really hard. But tonight winning this is kind of full circle."
— Adele, on her last big Grammys night
– Tackling history –
"My intention for the film and album was to create a body of work that will give a voice to our pain, our struggles, our darkness and our history, to confront issues that make us uncomfortable."
— Beyonce, on her album-film "Lemonade"
– Uncertainty in the age of Trump –
"Live it all up because this is the best,
And with President Trump, we don't know what comes next."
— Corden, calling out the Republican leader during his opening rap number
– Tough night for Trump –
"I just want to thank President Agent Orange for perpetuating all the evil you've been perpetuating."
— Rapper Busta Rhymes, taking it to Trump
– Doing it his way –
"This is for every indie artist, everybody doing the mixtape stuff for a long time."
— Chance the Rapper, who took home three Grammys including Best New Artist. The Chicago native has released his music only through streaming.
– RIP David Bowie –
"I'm a better artist and a better person for having known him."
— Avant-garde jazz saxophonist Donny McCaslin, who collaborated with the late rocker on his final album "Blackstar," which raked in five Grammys, including four posthumous awards for Bowie himself
– Speak out –
"At this particular moment in history, our voices are needed more than ever."
— Jennifer Lopez, on the importance of music in society
– Weird love for Beyonce –
"I almost peed myself, I was so excited."
— Paris Jackson, the 18-year-old daughter of Michael Jackson, on making eye contact with Beyonce in 2010, when she appeared at the Grammys to accept a posthumous award for her father.
– Do-overs are ok… if you're Adele –
"I commend @Adele for starting over and making it right! Very very good."
— Singer Charlie Puth on Twitter after Adele stopped her tribute to late singer George Michael and asked to start over on his hit tune "Fastlove."