BY CHARLES KUMOLU
In the last  23 years, no fewer than 200 foreign nationals have been killed  or  maimed in  xenophobic attacks in South Africa, an investigation by Sunday Vanguard revealed.The attacks, which mostly resulted  in the death of immigrants, first occurred in 1994, the year South Africa had its first multi-racial election, which ended apartheid rule.
There  had been pockets of undocumented incidents that year when homes of immigrants were attacked  by natives, who took them to  police station with the demand that they leave the country, the prominence of the trend could be traced to that year.
Since then, no fewer than 15  xenophobic attacks had happened, leaving  heavy casualties, mostly black immigrants.
Meanwhile, the attacks  of  2008  claimed  huge  casualties with  official figures of the dead  put at 62.
Virtually all the victims of the attacks were found to have been murdered in gruesomely by the natives, who wielded  cutlasses, bricks, and knives during the attacks.
In most of the  attacks, which happened in 1994, 1995, 1998, 2000, 2008, 2009, 2013, 2015 and 2017, blacks from African countries like Nigeria, Somalia, and Zimbabwe were found to have mainly been the victims.
Sunday Vanguard  learnt that cities dominated by black  immigrants were mostly the  flashpoints of xenophobic violence in South Africa.
For instance, some Nigerians resident in the country  said that  whenever such attacks start, black immigrants residing in white dominated areas were always safe, as the native residents hardly participate in such attacks.
The cities identified as traditional xenophobic grounds include   Gauteng, Limpopo, Western Cape, Kwazulu Natal and Free State.
Further investigation showed that nationalistic feelings, hang-over of apartheid experience, envy, frustration, unemployment,   failure of  the South African police and laziness of black South Africans, among others, often times, constitute the immediate and remote causes.
Buttressing these, Live Hågensen,  in a piece : Understanding the Causes and the Nature of Xenophobia in South Africa: A Case Study of De Doorns, observed: ''The reason given by most of the perpetrators of the xenophobia in De Doorns was economic competition; it was felt that the Zimbabweans were stealing jobs from South Africans (Misago 2009, Opperman 2014, Laubscher 2014). Local people felt they were being displaced from their historic places on the farms and from the jobs, they were entitled to; this applied especially to coloured workers who historically have supplied most of the labour force.
''The police have a code of conduct that advises them to treat and protect all persons equally. Yet, as seen in the examples above and elsewhere, there are complaints about the police targeting foreigners for harassment, extortion, and other corrupt activities. A survey conducted by Wits University found that 71 per cent of foreigners had been stopped by the police, while only 47 per cent of South Africans had been stopped."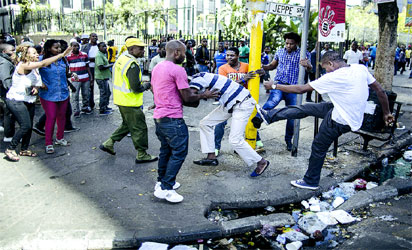 Similarly, a report by Citizens for Global Solutions, titled: The Tragedy of Xenophobia in South Africa, said: ''Politicians in South Africa have used this xenophobic sentiment to rise to power. Michael Neocosmos says that even during the 1990s in the post-apartheid state, many South African politicians have used politics of fear toward immigrants to attain power, making xenophobic statements during their campaigns. And, sadly, many political figures continue to do so today."
These few examples which are microsomes of many reasons xenophobic attacks have become a way of life for South Africans, underscored why it is becoming a regular occurrence.
Below is the timeline of xenophobic violence in South Africa since 1994 as culled  from Southern African History Online:
1994 to 1995
In December 1994 and January 1995, armed youth gangs in Alexandra Township outside of Johannesburg, Gauteng Province, destroyed the homes and property of suspected undocumented migrants and marched the individuals down to the local police station where they demanded that the foreigners be forcibly and immediately removed.
1998
In September 1998, two Senegalese and a Mozambican were thrown from a moving train in Johannesburg by a group of individuals returning from a rally organised by a group blaming foreigners for the levels of unemployment, crime, and even the spread of AIDS.
2000
In August 2000, seven xenophobic killings were reported in the Cape Flats district of Cape Town. Seven foreigners from different African countries were killed on the Cape Flats. Amongst those who were attacked by local South Africans were two Nigerians, one Kenyan, and two Angolans.
2008
On 8 January 2008, two Somali shop owners were murdered in the Eastern Cape towns of Jeffreys Bay and East London. In March 2008, seven people were killed including Zimbabweans, Pakistanis and a Somali after their shops and shacks were set alight in Atteridgeville near Pretoria.
On May 11 2008, an outburst of xenophobic violence in the Johannesburg township of Alexandra triggered more xenophobic violence in other townships. Firstly, it only spread in the Gauteng Province. After two weeks, the violence jumped to other urban areas across the country, mainly Durban, Cape Town and Limpopo Province.
2009
From 14 to 17 November 2009, 3000 Zimbabwean citizens living in the rural community of De Doorns, an informal settlement near Breede Valley Municipality, in the Western Cape was displaced as a result of xenophobic violence. It selectively targeted Zimbabweans despite the presence of other foreign nationals (e.g. Lesotho nationals) living and working in the same area.
2013
On 27 February 2013, eight South African police officers tied a 27 years old Mozambican man, Mido Macia, to the back of a police van and dragged him down a road. Subsequently, the man died in a police cell from head injuries. The incident happened in Daveyton, East of Johannesburg, South Africa. On 26 May 2013, two Zimbabwean men were killed by South Africans mob in xenophobic violence in Diepsloot, South Africa.
2015
In January 2015, Somali shop owner shot and killed a 14-year-old boy, Siphiwe Mahori, during an alleged robbery in Soweto Township. The boy was shot in the neck and died within 15 minutes. Lebogang Ncamla, 23, was another victim when he was shot three times in the arm. The incident triggered the waves of attacks and looting of foreign-owned shops.
On 5 March 2015, xenophobic attacks occurred in Limpopo Province. Foreigners on the outskirts of Polokwane left their shops after protesting villagers threatened to burn them alive and then looted them. Violence erupted in the Ga-Sekgopo area after a foreign shop owner was found in possession of a mobile phone belonging to a local man who was killed.
On 8 April 2015, a spate of xenophobic violence occurred after Zulu King Goodwill Zwelithini made comments that foreigners should go back to their home countries because they are changing the nature of South African society with their goods and enjoying the wealth that should have been for local people.
On 12 April 2015,  attacks on foreign nationals continued in KwaZulu-Natal when shops in Umlazi and KwaMashu, outside Durban, were torched. In V Section, a shop owned by a foreign national was set on fire by a mob of suspects. Five people have been killed.
On 14 April 2015,  looting of foreign shops spread to Verulam, north of Durban following a day of clashes between locals, foreigners, and police in the city centre, KwaZulu-Natal. About 300 local people looted foreign-owned shops, and only two people have been arrested.  A 14-year-old boy became the latest fatality. He was shot dead during looting in KwaNdlanzi, allegedly by two security guards.
Subscribe for latest Videos