US Secretary of State Rex Tillerson made his diplomatic debut at a G20 gathering in Germany on Thursday as Russia pressed the Trump administration to keep its promises of improved relations.
All eyes were on Tillerson as he held initial talks with his British, Saudi and UAE counterparts but he was giving nothing away amid intense interest as to what President Donald Trump's "America First" policy really means.
America's top diplomat was also due to meet Russian Foreign Minister Sergei Lavrov as controversy raged over Trump's possible ties to the Kremlin and the shock resignation of his national security advisor Michael Flynn over contacts with Moscow's ambassador.
Russian President Vladimir Putin meanwhile called for restoring links between US and Russian intelligence agencies to face shared problems such as terrorism.
"Even a simple exchange of information about the channels and sources of terrorists, about people implicated in or suspected of terrorism seriously raises the effectiveness of our joint efforts," Putin told the country's FSB intelligence agency in a televised speech.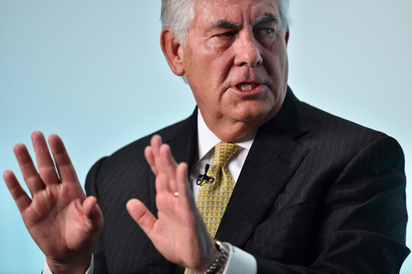 On the campaign trail, Trump said he would be open to anti-terror cooperation with Russia.
Separately, US Defence secretary James Mattis said in Brussels that Washington was not ready "right now" for military collaboration with Russia.
Several US investigations are under way into alleged meddling by Russian intelligence services in favour of Trump during last year's elections, charges the president has angrily dismissed as nonsense.
Tillerson is a former head of US oil giant ExxonMobil reputed for making major deals in Russia and having close enough ties to Putin to merit a top Russian honour.
– Backtracking –
Host nation Germany billed the two-day G20 meeting as a chance for the club of leading and developing economies to discuss how to work together on challenges ranging from climate change to conflicts in Syria, Ukraine and Yemen.
US relations with China are likewise in the spotlight.
Tillerson could have his first encounter with Chinese Foreign Minister Wang Yi, whose attendance was only confirmed by Beijing following a conciliatory phone call between Trump and President Xi Jinping.
During the call, Trump reaffirmed US adherence to the decades-old position that Taiwan is not separate from China, backtracking on earlier comments that cast doubt on the "One China" principle.
The Texan could also face questions about the Israeli-Palestinian conflict, after Trump caused international consternation Wednesday by dropping Washington's years-long quest for a two-state solution, saying he would back a single state if it led to peace.
– Blunt warning –
Tillerson is part of a major US diplomatic offensive after Trump caused dismay in Europe by dubbing NATO "obsolete," praising Brexit, claiming the European Union is doomed and taking a distinctly softer line on Russia.
US Defence Secretary James Mattis is attending the second day of a NATO meeting in Brussels on Thursday, while Vice President Mike Pence will be the highest-ranking US official participating in the Munich Security Conference from Friday.
"There are plenty of uncertainties about what they want, what they plan," a European diplomat said about the Trump administration. "We hope we'll get some clarity in the weeks to come."
Speaking in Brussels on Wednesday, Mattis reaffirmed Washington's commitment to NATO but the former Marine also warned member states Washington would "moderate its commitment" to the alliance unless they paid their fair share.
"Americans cannot care more for your children's future security than you do," he said.
Initially, Mattis had taken a more conventional line than President Trump but his blunt words Wednesday came as a shock.
Pence has likewise used more moderate language than his boss but his visit to Europe this week will be closely watched to see if has a similarly hardline message to deliver.
The G20 meeting is being hosted by German Foreign Minister Sigmar Gabriel who has been a vocal critic of Trump's protectionist and nationalist leanings.
"No country in the world can tackle the major international problems of our time alone," Gabriel said ahead of Thursday's talks.
The G20 countries account for some 85 percent of the global economy and two thirds of the population.
The meeting is a precursor to a G20 leaders' summit scheduled to take place in Hamburg in July, likely to be the first time Trump will meet Putin in person.