Controversial standup comedian, Bright Okpocha, better known as Basketmouth, has expressed his readiness to celebrate his 20th year on stage as a comedian.
While expressing a heartfelt appreciation to his fans, for the love and support shown him during his just concluded annual comedy show, Lord of the ribs, in London, at the Wembley Arena, the hilarious rib-cracker hinted at celebrating 20 years on stage in the rib-cracking craft. In a post on his Instagram page, he expressed his profound gratitude to all those who came out to the Wembley Arena to support him at Lord of the ribs comedy show.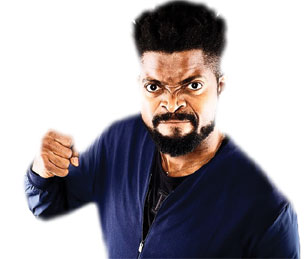 "History was made on Valentine's Day at the Wembley Arena, London, as fans came out to show support, helping me become the first African comedian to headline the Wembley Arena.  I want to say a very BIG thank you to everyone that came out, thank you for being part of my dream and making it come true.  I will be returning to the Wembley Arena on the 11th of February 2018, which will also mark my 20th year on stage as a performing comedian. See you and love you all", he wrote.