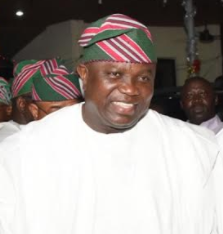 AMBODE
By Dayo Adesulu
University of Lagos Alumni Association has given Awards of Excellence to Governor Akinwunmi Ambode, Lagos State commissioners Ashade Akinyemi Jeremiah, Oluwo Olawale Wasiu, Akintola Benson Oke and Abdul-Akeem.
Others include; Abdul-Lateef, the MD/CEO of Dock Management Nigeria Ltd, Hon. Moshood Adegoke Salvador, GMD/CEO Vitafoam Nigeria Plc, Mr Taiwo Adeniji, MD Studio 24 Nig. Ltd and Mr Ifeanyi Oputa.
This was made public when the University of Lagos Alumni Association on Sunday held their dinner/get-together of members resident in Lagos to round off a week long activity during the Alumni week.
The dinner was set to raise a 150 million naira scholarship fund for indigent but brilliant students of the University and also for a reunion of members of the Alumni Association resident in Lagos.
In his opening speech, Lagos State branch chairman of the association Dr Lukumon Adeoti, an Associate Professor at the University of Lagos' Department of Geosciences thanked members and guests for coming and reiterated the need for the scholarship fund. He thanked members who have been participating in the Association's activities and mentioned Lagos state governor Akinwunmi Ambode, an Alumnus of Unilag, as one of the outstanding members.
Chairman of the occasion Olaide Adebowale Omotola, an entrepreneur told people present that the occasion has brought back pleasant memories having graduated from the university a long time ago. He praised the University for the Excellence they exhibit and noted that University of Lagos has become a very strong brand in the world.
The Vice Chancellor of University of Lagos, Professor Rahamon Bello praised the Unilag Alumni, Lagos Branch for their activities which has benefited the society and also emphasised on the importance of Alumni association in education and universities' development.
It was a colourful event with notable dignitaries like some commissioners of Lagos state: Ashade Akinyemi Jeremiah, Oluwo Olawale Wasiu, Akintola Benson Oke, Abdul-Akeem and Abdul-Lateef; captains of industries, CEOs, professors, doctors and members of University management particularly the DVC Academics and Research of University of Lagos Professor Oluwatoyin Ogundipe.
There were also donations from individuals and awardees to the Alumni for the scholarship fund. Some of the association's members and awardees were very magnanimous in their donations which the chairman of the occasion described as a good humanitarian gesture.
The diner marked the end of a week of activities for the Lagos state Branch of Unilag Alumni week.