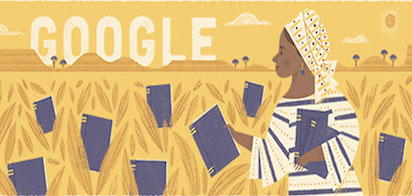 Flora Nwapa doodle
Google celebrated Flora Nwanzuruahu Nwapa, Nigerian Igbo author with a doodle on her 86th posthumous birthday yesteday. Flora Nwapa doodle
The changes made on the Google logo are called doodles which is use to celebrate holidays, anniversaries, and the lives of famous artists, pioneers, and scientists.
Flora Nwanzuruahu Nwapa who made her mark as a writer was bron 13 January 1931 and died 16 October 1993.
Flora Nwapa, the mother of modern African literature and forerunner to a generation of African women writers, is acknowledged as the first African woman novelist to be published in the English language in Britain and achieve international recognition, with her first novel Efuru being published in 1966 by Heinemann Educational Books.
While never considering herself a feminist, she is best known for recreating life and traditions from an Igbo woman's viewpoint.
Nwapa also is known for her governmental work in reconstruction after the Biafran War.
In particular she worked with orphans and refugees who were displaced during the war. Further she worked as a publisher of African literature and promoted women in African society.
She was one of the first African women publishers when she founded Tana Press in the 1970s.
Writing and publishing[edit]
Nwapa's first book, Efuru, was published in 1966, a pioneering work as an English-language novel by an African woman writer.
It was followed by the novels Idu (1967), Never Again (1975), One is Enough (1981) and Women Are Different (1986).
She published two collections of stories — This Is Lagos (1971) and Wives at War (1980) — and the volume of poems Cassava Song and Rice Song (1986). She was also the author of several books for children.