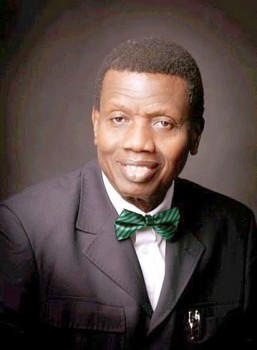 Pastor Enoch Adeboye
By Olayinka Latona
GENERAL Overseer of The Redeemed Christian Church of God, RCCG, Pastor Enoch Adejare Adeboye recently revealed how God used a witch to stop him from eating kola nut which would have lead to his death if he did not stop the act.
Narrating his experience while delivering a sermon tiled: "God Loves Me" during the annual thanksgiving service and prophetic declaration at the church national headquarters, Throne of Grace parish in Ebute-Meta, Lagos, Pastor Adeboye attributed his continued survival to God's faithfulness, and love, saying those whom God loves are more than conquerors.
In his words: "I was telling my children that whenever we wanted to study at night while we were young, we used kola nut as our own coffee as we did not have money to buy coffee. We ate the kola nut to stay awake.
"One day, the number one self confessed witch in our compound, called me and said: "Dejare, why won't you stop eating kola nut? The witch warned me to desist from what can lead to my death. I think God spoke through the witch and I can say God loves me," Adeboye stated.
Continuing, the cleric said: "You are alive today not because you are clever, wise or know how to do it but simply because God loves you. There are lots of people who are in the prison who are free. I was at the Kirikiri Prison where I heard testimonies that brought tears to my eyes. Some of them said they were in prison but they are free men because they have Jesus; they were incarcerated but they are free. And there are people who are outside the prison who are prisoners.
"It is because God loves you that you are able to conquer all that the devil threw at you last year. Left for the enemy you, will not be here today but because God loves you, you are more than conqueror," Daddy G.O. said.
Adeboye then admonished Christians that God expects those He loves to respond by honouring Him with their tithes and first fruits and love their neighours, noting that the greatest gift Christians can give their neighbours is introducing them to Christ.
Also speaking, the Assistant General Overseer to G.O. on Administration and Personnel, Pastor Johnson Odesola, said it was high time government did something to ameliorate the incessant orgy of violence in southern Kaduna often leading to killing of innocent citizens and destruction of properties before it escalates to the type of Boko Haram problem the nation is nursing today.
He said: "This was how the problem of Boko Haram started and the government felt it was a small thing until the sect became a thorn in the flesh of Nigerians.''