By Donu Kogbara
LAST week, I said on this page that I had grave reservations about President Buhari's active involvement in a non-Nigerian political crisis that had been brought on by his Gambian counterpart Yahya Jammeh's undemocratic misconduct.
Jammeh who had ruled his country with an iron fist for two decades, had adamantly refused to step down after he lost the recent Gambian presidential election; and African heads of state, led by Buhari, had first tried to persuade him to do the right thing, then threatened military action when their advice fell on deaf ears.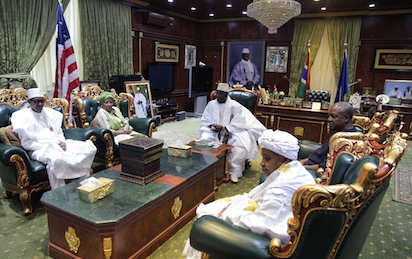 I agreed that it was morally justifiable to apply multinational pressure on a shameless sit-tight dictator. But I was uncomfortable about Buhari's preoccupation with Gambian issues at a time when we have so many pressing problems of our own in this country and the government is struggling to cope with Niger Delta militants, Boko Haram terrorists, Biafran activists, rampaging Fulani herdsmen and so on.
But all's well that ends well. Fortunately – thank God! – Jammeh suddenly saw the light and decided, at the eleventh hour, to avoid a Big Fight that would probably have consumed him, caused several deaths, cost a fortune and catapulted Gambia into prolonged turmoil.
So he caved in last weekend and reluctantly slunk off into exile (to Equatorial Guinea with his family and various ill-gotten luxury items, including two Rolls Royces).
Buhari and his ECOWAS colleagues (Liberian President Ellen Johnson Sirleaf, for example) deserve to be congratulated – and thanked by the Gambian people and their new Commander-In-Chief, Adama Barrow – for an excellent bloodless result.
Buhari should now vigorously knuckle down to his core responsibilities here.
When there are numerous fierce fires that need to be put out on your home turf – and when many folks who happily voted for you less than two years ago are feeling let down and have taken to angrily describing you as a huge disappointment – effective, domestic dynamism is more important than triumphant foreign interventions!
NEDC versus NDDC
GOVERNORS of the six  states in the North-East have pledged to ensure that the proposed North East Development Commission, NEDC, out-performs the Niger Delta Development Commission, NDDC, which is widely regarded as having failed to add value to the oil-producing areas it was established to serve 16 years ago.
While visiting the 8th National Assembly with a delegation comprising other governors and various dignitaries from his zone, Alhaji Kassim Shettima, the Borno State governor, thanked legislators for passing the NEDC Bill, then said that:
Human  capacity
"A lot of Nigerians within and outside the Niger Delta do not give a good score to the NDDC" because they feel that it has not done enough to boost living standards, develop human capacity and improve infrastructure.
He also said that: "While this [viewpoint] can be debated by those in a position to know better, we the governors of the North-East are of the strong opinion that…we must learn from the experience of the NDDC…so we can take preventive measures that should ensure that persons of impeccable character are entrusted to manage the NEDC…a lifeline that we must not allow anyone to toy with."
I really hope that Shettima is being sincere because, as he pointed out, the North-East – which has been badly hit by a Boko Haram insurgency that has damaged or destroyed countless schools, health centres, police stations and local government secretariats – is the poorest zone and inhabited by thousands of orphans and widows, as well as millions of uneducated children, who desperately need help.
It is also worth noting that many North-Easterners have lost their homes and are stranded in grim camps for the internally displaced, with no sources of income.
Shettima has been quoted as ascribing the NDDC's failures to "inappropriate leadership" and he is 100 per cent right to say that the NEDC can only "protect, promote, preserve and defend the objectives for which the Bill was passed" if it is properly-run and avoids the mistakes that the NDDC has made.
And if Shettima and his colleagues resist the temptation to be typical dodgy politicians and don't treat the NEDC as if it is their personal cash cow or fill it with corrupt cronies, inept relatives and moronic girlfriends, the NEDC will stand a chance of fulfilling its moral obligations to the constituents it is supposed to serve.
If Shettima and his colleagues genuinely want the NEDC to become an exemplary organisation that transform lives, they must insist that it operates meritocratically, professionally and ethically…and provide competent and honest North-Eastern Christians and North-Eastern Muslims with equal opportunities.
Let's wait and see how Shetima et al handle this upcoming challenge. In the meantime, I have to say that Northern grandees who accuse senior NDDC personnel of mismanagement are guilty of hypocrisy because Northern grandees are one of the reasons why the NDDC has not done well or earned respect!!!
Leadership's  shortcomings
Yes, the NDDC leadership has been far from ideal. And some of the leadership's shortcomings and failures cannot be blamed on anyone except the leadership. But it is common knowledge that many NDDC contracts that should have been used as a means of empowering Niger Deltans have been awarded to Northern grandees.
Furthermore, rumour has it that some of these contracts have been fraudulently inflated…and that not all have been executed, never mind to a high standard. According to an NDDC executive, who wishes to remain nameless: "If you ask me, the NDDC was programmed to fail from day one because it has been subjected to constant interference from VIPs from other parts of the country, especially the North, and has not been allowed to concentrate on supporting Niger Deltans."
When the NEDC is up and running, will any Niger Deltan get an NEDC contract? I doubt it! And you know what, dear Vanguard Readers? I won't complain if my kith and kin can't benefit from NEDC funds because I am consistent. I think that the NDDC should focus exclusively on taking care of Niger Deltans and that the NEDC should focus exclusively on taking care of our North-Eastern brethren.
End of story!!!