By Peter Okutu
ABAKALIKI—GOVERNOR David Umahi of Ebonyi State, yesterday, presented to the state House of Assembly, the  appropriation bill of N127,233,074,419 for 2017 fiscal year.
The bill tagged "Budget of inclusive growth and poverty reduction in economic recession" set aside N87,061,505,780 for capital expenditure, representing 68.43 per cent of the budget outlay while N40. 171 billion was set aside for recurrent expenditure, being 31.57 per cent of the total estimate.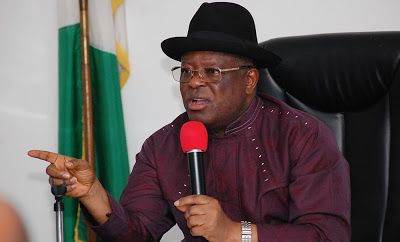 The total estimate of N127,233,074,519  is slightly above that of  2016 which was  N101.1 billion.
The economic sector got N57,078,912,530 billion, the largest chunk of the capital estimate of which the governor said was with the basic aim of continuing its efforts in tackling challenges in roads, water, electricity, agriculture, education, commerce and industrial sectors.
The social sector got a total of N14.039 billion with the administration sector having N9.9 billion.