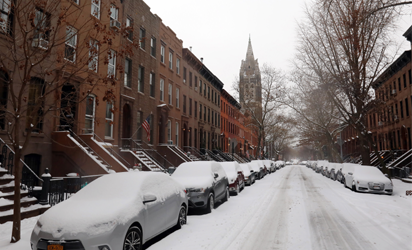 NEW YORK, NY – DECEMBER 17: Snow covers cars and the street on December 17, 2016 in the Carroll Gardens neighborhood of the Brooklyn borough of New York City. The late fall storm brought the first snow accumulation of the season to the city. Michael Heiman/Getty Images/AFP
New York – Residents across the U.S. woke up to a "white" Saturday morning after snowfall accumulated overnight, with temperature hovering around minus five (-5°C).
As at 8 a.m. Saturday morning in New York, (2 p.m. Nigerian time), all residents were still indoors, and are expected to stay till around noon, in the busiest U.S. city that runs a 24-hour rail and bus transport services.
Residents of other states also experienced the same condition, with worse scenarios in some states.
Only emergency officers like the New York Police Department, Fire Department and Environment and Sanitation Department are on alert patrol, some with shovels to evacuate critical areas.
The NewYork City Weather Forecast had alerted of "snow Friday night and freezing rain".
The alert read: "NYC Weather Advisory issued from midnight to 10 a.m., Dec.17, 1 to 2 inches of snow expected. Snow will change to freezing rain early Saturday.
"Extreme cold weather alert for NYC from Thursday through Saturday. Make sure you are prepared, check on neighbours.
"If the cold persists and you do not have heat or your heat is not restored call family, neighbours, or friends to see if you can stay with them".
The Winter Weather Advisory issued by the National Weather Service (NWS) had also asked residents to prepare for a snowy Saturday.
"Snow alert" and "hazardous travel advisory": We could wake up to 1 to 2 inches Saturday morning, forecasters say.
"The first real, prolonged snowfall of winter will begin falling on NYC around midnight Friday, and could build up 1 to 2 inches before turning to freezing rain (and then just regular rain) Saturday morning.
"Snow is expected to start falling around midnight, and by daybreak Saturday. New York City should be right around freezing.
"Thermal profiles suggest a quick transition to rain, however, with such cold temperatures in place, thinking the surface will take a bit longer to warm, and a period of light freezing rain is possible, even at the coast."
City officials warned of a "brief period of freezing rain and icing roadways" possible around 7 a.m. or 8 a.m.
"Rain, snow, freezing rain, and sleet before 1p.m., then rain likely between 1 p.m. and 3 p.m., then patchy drizzle after 3 p.m.
"Total daytime ice accumulation of less than a 0.1 of an inch possible. Total daytime snow and sleet accumulation of 1 to 3 inches possible.
"Tonight, patchy drizzle and fog with a chance of light rain."
The city officials have also provided safety tips for residents to stay safe during the period.
The New York City Emergency Management Department on Friday, urged New Yorkers to prepare for upcoming extreme cold weather, saying frigid weather is expected to end the week, as temperatures dive into minus wind chills from Friday.
The Emergency Management Commissioner of NYC, Joseph Esposito, said; "New York City is expecting the coldest temperatures and lowest wind chills of the season.
"These temperatures will be dangerous for New Yorkers. During this blast of arctic cold, stay indoors, and if you have to go out, bundle up.
"Remember to check in on your family, neighbours, the elderly, or others with increased health risks to make sure they are protected from the extreme cold."
"An arctic blast accompanied by strong winds is forecast to bring bitterly cold weather to the New York City area.
"New Yorkers are advised to check on their neighbors, friends, and relatives. People most at increased risk include those who lack shelter, drink heavily or use drugs, or live in homes without heat.
"Others are people that are 65 years of age or older; have chronic medical conditions such as heart or lung disease; have serious mental illness or developmental disabilities; are socially isolated, have limited mobility, or are unable to leave the house.
"New Yorkers are also encouraged to take the following precautions during extreme cold:
"Stay indoors as much as possible. If you have to go outdoors, wear dry, warm clothing and cover exposed skin. Keep fingertips, earlobes, and noses covered. Wear a hat, hood, or scarf, as most heat is lost through the head.
"Shivering is an important first sign that the body is losing heat. Shivering is a signal to return indoors. Drinking alcohol may make you think you feel warmer, but it actually increases your chances of hypothermia and frostbite."
The city urged employers to implement safe work practices, provide appropriate protective equipment, and train workers on health effects of cold weather, proper prevention techniques, and treatment of cold-related disorders.
The city also pledged to ensure that no homeless person suffers from the hazardous effects of the snow.
"If you suspect a person is suffering from frostbite or hypothermia, call 911 to get medical help. While waiting for assistance, help the person by getting them to a warm place if possible, removing any damp clothing and covering them with warm blankets."
Some schools closed early on Thursday and many others delayed opening Friday to avoid the bone-chilling wait at the bus stops.