Governor Ibrahim Dankwambo of Gombe State on Thursday condoled with Malam Sidi and Jigawa communities of Kwami and Nafada local government areas over the death of 22 persons in vehicle crashes.
The News Agency of Nigeria (NAN), recalls that 15 of the deceased persons were indigenes of Malam-Sidi.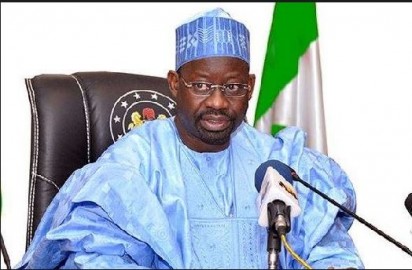 They were crushed by a vehicle during Maulud celebration on Dec. 12 in an accident that left 33 others hospitalised.
The remaining seven deceased, who were also involved in another accident, last week, were from Jigawa-Nafada.
Dankwambo, who spoke through his Chief of Staff, Alhaji Ahmed Yayari, said he received news of the incident with shock while out of the state.
"Upon hearing of the unfortunate incident, I immediately delegated some commissioners to attend the burial and condole with the families of the deceased", Dankwambo said.
The governor called on the families to take it as an act of God and to continue to pray for the souls of the deceased.
Alhaji Haruna Abdullahi, Senior District Head of Kwami commended the governor for his concern for people in the area.
He also thanked the governor for his assistance to families of the deceased persons and his personal visit even after a government delegation had been sent.
Muhammad Dadum-Hamza, Emir of Nafada also commended the governor for commiserating with people of the community over the incident which was the first of its kind in history of the community.
Dadum-Hamza called on the governor to continue with the ongoing road projects in the area since the insurgency that halted the projects had ended.