By Sola Ogundipe and  Ayo Onikoyi
Dietary supplements are intended to supplement the diet. They come in different forms, including capsules, liquids, and powders, but while dietary supplements might seem similar to drugs, even have drug-like effects, there's a big difference. They are not drugs and, therefore, not intended to treat, diagnose, mitigate, prevent, or cure diseases. Dietary supplements don't undergo the same kind of strict review for safety and effectiveness which drugs undergo before they're sold.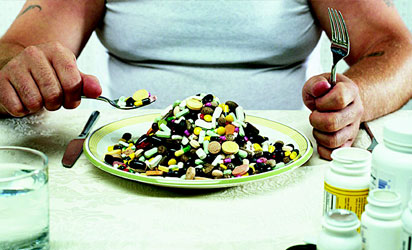 Dietary supplements may seem like harmless health boosters, but they are often not as harmless as they seem. Unlike drugs, dietary supplements are not often evaluated or reviewed by appointed regulators for safety and effectiveness. Even so-called "natural" supplements can be risky. They could cause undesirable interactions with prescription and non-prescription drugs alike.
Adults in Nigeria take one or more of these supplements every day or occasionally. Today's dietary supplements include vitamins, minerals, herbals and botanicals, amino acids, enzymes, and many other products. Some dietary supplements are beneficial for overall health and for managing some health conditions. However, supplements can't take the place of the variety of foods that are important to a healthy diet.
Food and nutrition supplements promise better nutrition and improved wellness at affordable cost. Some claim to possess powerful and effective anti-aging and antioxidant capabilities. Their marketers have a field day despite an abundant food supply in Nigeria.
Misleading claims
However, countless supplements on the market have been found to be tainted with drugs and other chemicals, nevertheless, claimants of unverified and "unorthodox" cures are having a field day promoting them. The practice of unsupported, uncorroborated and potentially fraudulent claims of unverified and sometimes unscientific cures have been making the rounds.
It is not uncommon nowadays to come across advertisements of food supplements, promising one health benefit or the other. In most cases the marketers even claim that the supplements can cure a number of ailments deemed incurable by orthodox medicine.
Unlike most marketing campaigns, which seek to reach its target audience through the mass media, the food supplements vendors or marketers, more often than not, adopt an interpersonal kind of marketing which makes them difficult to ignore.
To most people in Nigeria, supplements are seen more as drugs than food but to the marketers, they are miracle drugs that can cure almost all ailments known to man, from high blood pressure to diabetes and even cancer. Mostly seen as herbal products the marketers tell their customers that the drugs have no side effects.
These marketers don't just sell the products to you with only word of mouth, they have a long list of testimonials by people who have purportedly been cured after taking the products. If the testimonials are not enough to convince you, their marketing literature which is backed by grandiose scientific claims is sure to do the job.
But the truth about supplement, according to the U.S. National Institute of Health, is that " these products are not intended to prevent or treat any disease and in some circumstances are dangerous. Most supplements should be avoided, and usually people should not eat micro-nutrients except people with clearly shown deficiency. Those people should first consult a doctor". But in our society, most of the supplements' vendors have turned to doctors and health educators.
Spurious testimonials
Currently in Nigeria, there is a food supplement called Glucof…(name not complete), which its marketers claim could cure diabetes. The price of the supplement is between N50,000 to N60,000. Diabetic patients who buy the product are expected to take it for thirty days after which they become free of the ailment. As a diabetic,with the financial wherewithal it is almost impossible not to take the plunge, especially having been told severally by your doctor that the ailment is incurable.
Marketers of the supplement, who use mostly the internet to court their prospective customers in one of the pamphlets promoting it stated that, "do you know that countless studies from scientists, doctors and alternative medical practitioners all over the world have proved that people with type 2 diabetes can normalise blood sugar, increase insulin sensitivity, end neuropathy pain, lower risk of blindness, amputations and be taken off all diabetes drugs and insulin injections?
"The above is a known fact. Stop believing the lies that diabetes is incurable. Once you believe it is incurable, even if you use the cure it won't work because for any medication to work for you, the belief factor that it will work must be there. I like you to be full of hope that you can be free from diabetes". They then follow it up by assailing you with a long list of testimonials from people who have supposedly taken the supplement with successful results.
A testimonial from one diabetic patient simply signed Omotoyosi, with no further details read: "I sent in my testimony three months ago about the efficacy of GLUCOF… I finished the 30 days therapy ending of November 2015. I have monitored my sugar level daily since that time and I am happy to let you know that I am now diabetes free. My FBS (fasting blood sugar) has been stable at 4.1mmol since November. Thank you so much for making these Supplements available".
Another success story goes thus: "I initially had my doubts about the efficacy of GLUCOF.. dealing with diabetes. This is my 17th day of taking it and it's been amazing. With all my prescription drugs my blood sugar has always been in the range of 12mmol for a long time. The
3rd day I started taking GLUCOF.., I discovered that my blood sugar went down to 9mmol. Wow. For me this is a miracle. As I am sending you this, it has further dropped to 7mmol. I am so optimistic that by the time I'm done with the 30 days, my blood sugar would have been totally reversed. Thank you so much for making these supplements available. You will hear from me soon", signed Abubakar, Abuja with no further details.
Reality Check
Those who are promoting this wonder supplement which cures diabetes in thirty days have nothing but success stories from their supposed customers. Not once did they have a different story to tell. All the supposed buyers of their product have nothing else to say to them but kudos. Not one single person has been published who said the drug didn't live up to its claim.
However, one person who bought the drug and talked to Saturday Vanguard, under anonymity, has a different story to tell. He said he bought the product about three or four months ago for N50,000. He claimed to have seen the advert of the product on the online page of one of the national newspapers and decided that there may be some substance to the claims and some of the testimonials.
He said: "I was really skeptical from beginning but I decided I have nothing to lose by trying out the product. I have been on orthodox medication for eight years without much improvement on my blood sugar level. I felt trying an unorthodox medication may truly solve my problem. I bought the drug for N50,000, it was during their special promo period.
The drug consists of Aloe Vera gel, Garlic Thyme, Fields of Green, Nature Min and B12. I was to take the supplement for thirty days but should continue with my diabetic medications like Glucophage and Daonill until the tenth day of the therapy, when I should discontinue taking the diabetic drugs prescribed by my doctor. I was so happy because the assurance was firm and backed with so much tutoring from my health educator".
But to his chagrin, there was no improvement in his blood sugar status. He said by the tenth day when he was supposed to discontinue the use of his diabetic drugs, his blood sugar was very much the same.
"When I started the Glucof.. therapy, my blood sugar was reading 200mg and by the tenth day, when I was supposed to stop taking my drugs, it was still at 200mg and sometimes above. When I contacted my educator to tell him of my situation, he instructed that I should continue and finish my 30-day therapy. With some little hope and his tone of conviction, I proceeded to finish the therapy. At the end of the 30-day therapy my blood sugar level was still high and even beyond the 200mg I started from" he explained.
No doubt it was a devastating experience for him as he felt cheated and conned. What he said angered him the more was when his educator stopped picking his calls and was not responding to his text messages after he told him the drug did not work for him.
"It was a very sad experience for me. After I told him I had recorded no success from the product, he didn't even offer to explain to me why the product didn't work for me. He just closed all line of communications with me", said the source who is now battling blood sugar level of 200mg and above.
Sadly there appears not to be an effective deterrent or warning to dissuade habitual perpetuation of such bogus claims that have tendency to mislead or create panic within the populace. Essentially, claims of treatment or cures for diseases are not certifiable without incontrovertible evidence.
Quite often, marketers take the advantage, using expressions like "Anyone who wants to live longer should take vitamin supplements". Do not believe them. Supplements masquerading as drugs and claiming to cure so many things . Don't be fooled by the attractive packages or give-away prices. Look for tell-tale signs.
For instance, a supplement claiming to shrink tumours, cure insomnia, impotence, pile, heartburn, or prevent severe memory loss, prostate problems, ulcers, cancer, heart trouble, hardening of the arteries and more, or other "magic"cure is definitely a fake.
Legal or not?
Legally, supplements cannot and should not be promoted for the treatment of any disease condition because even if proven to be safe are not proven to be effective. Worse still, besides robbing you of your hard-earned money, they could be potentially lethal.
Weight loss products are no better and should be treated with suspicion. Any supplement or product claiming that you can eat all you want and still lose weight effortlessly is obviously spurious and should be avoided. The best way to lose weight and keep it off, is to eat fewer calories and increase your activity.
Tip offs
Other tip-offs to a fraudulent supplement product include a cure-all or do-all of a wide variety of health problems. The mere suggestion that the product can treat or cure diseases is enough to alert you.
Beware of misleading use of scientific-sounding terms, and use of words and expressions such as "revolutionary innovation", "scientific breakthrough", "miraculous cure", "exclusive product", "secret ingredient", or "ancient remedy", etc.
Bogus claims of affiliation with popular personalities or undocumented testimonials of unknown patients or doctors claiming miraculous results, are also tip-offs. Promises of no-risk money-back guarantees are evidences of fraud.
All products labelled as a dietary supplement carry a "Facts panel" that lists the contents, amount of active ingredients per serving, and other added ingredients. Reading the label often offers no useful protection or information.
Safety and risk
Many supplements contain active ingredients that can have strong effects in the body. Always be alert to the possibility of unexpected side effects, especially when taking a new product.
Supplements are most likely to cause side effects or harm when people take them instead of prescribed medicines or when people take many supplements in combination. Some supplements can increase the risk of bleeding or, if a person takes them before or after surgery, they can affect the person's response to anaesthesia. Dietary supplements can also interact with certain prescription drugs in ways that might cause problems.
Keep in mind that some ingredients found in dietary supplements are added to a growing number of foods, as a result, you may be getting more of these ingredients than you think, and more might not be better. Taking more than you need is always more expensive and can also raise your risk of experiencing side effects. For example, getting too much vitamin A can cause headaches and liver damage, reduce bone strength, and cause birth defects. Excess iron causes nausea and vomiting and may damage the liver and other organs.
Caution
Be cautious about taking dietary supplements if you are pregnant or nursing a baby. Also, be careful about giving a child. Most dietary supplements have not been well tested for safety in pregnant women, nursing mothers, or children.
Supplements are complex products, depending on identity, purity, strength, and composition. Don't decide to take dietary supplements to treat a health condition that you have diagnosed yourself, without consulting a health care provider. Don't take supplements in place of, or in combination with, prescribed medications without your health care provider's approval.
Check with your health care provider about the supplements you take if you are scheduled to have any type of surgical procedure.
The term "natural" doesn't always mean safe. A supplement's safety depends on many things, such as its chemical composition, how it works in the body, how it is prepared, and the dose used. Careless use can harm the liver. Before taking a dietary supplement, ask yourself the potential health benefits, the safety risks, the dose, etc. Consult a health care provider which dietary supplements to take.
Regulation
In general, the regulations for dietary supplements are different from those for prescription or over-the-counter drugs. Unlike drugs, which must be approved by a regulatory agency such as the National Agency for Food and Drug Administration and Control, NAFDAC, before they can be marketed, dietary supplements do not require pre-market review or approval.
While the supplement company is responsible for having evidence that their products are safe and the label claims are truthful and not misleading, they do not have to provide evidence to the regulator before marketing the product.
Dietary supplement labels may carry certain types of health-related claims. Manufacturers are permitted to say, for example, that a dietary supplement addresses a nutrient deficiency, supports health, or is linked to a particular body function (like immunity or heart health). However, such a claim must be followed by the words like: "This statement has not been evaluated by the FDA or NAFDAC" or, "This product is not intended to diagnose, treat, cure, or prevent any disease."
Bottom line: It is better to eat healthy food than depend on food supplements.
Subscribe for latest Videos